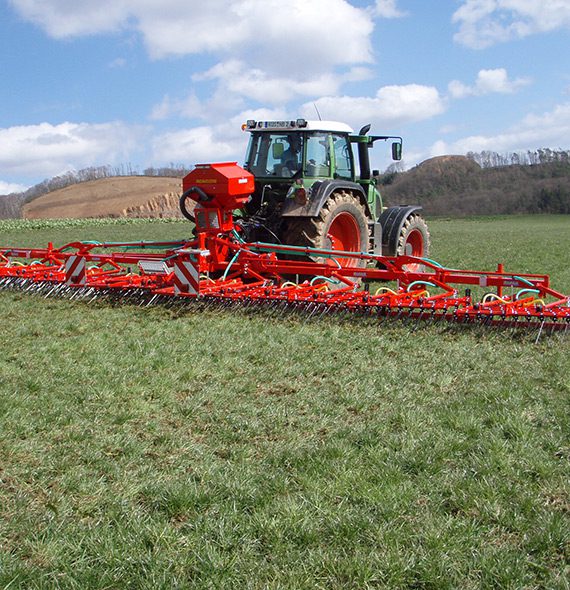 The Einböck PNEUMATICSTAR is an optimal machine for sowing-in, subsequent sowing and sowing-under. The basis for the PNEUMATICSTAR is the tined weeder "Grass Manager", on which the pneumatic seeder PNEUMATICBOX is mounted. The 6- row tine weeder sections, equipped with 7/490 tines, prepare the soil surface and create a good condition for the germination of the pneumatically brought-out seeds.
For operation in grassland spring-loaded front levelling plates as well as 8 mm tines are offered. This way cow pats, manure, dung and mole hills can be rubbed in optimally. A good aeration of the turf is guaranteed.
The seed tank has a standard capacity of 300 liters. A stirring shaft prevents the de-mixing as well as the creation of bridges in the tank. The flexible drive shaft flanged to the rubber support wheel or tail wheel transfers the power to an infinitely variable oil-immersed gearbox, which in turn powers the seeding roller and the stirring shaft by a chain machine. The seeding roller distributes the seeds into the eight divided and separated outlets. From there it is conveyed pneumatically via the PVC seed hoses to the deflector plates from where it is exactly spread over the entire working width. The decision, which blower to be used depends on the working width and the type of seeds which to be drilled. Specially formed deflector plates guarantee an exact seed distribution even in windy conditions.
The PNEUMATICSTAR-PRO is now also available as PNEUMATICSTAR-PRO-STI (SPEED-TRONIC inside). At this machine the seeding is controlled through the completely new developed SPEED-TRONIC control unit.