Wolf Plus
From peat-clod rooted seedlings to seeds, from bulbs to potatoes, on mulching film as on bare soil, in greenhouses as in open fields.
It is obvious that the strong point of the WOLF is its extreme versatility, a feature that has made this model the favorite of those that work in the direct sales sector and farmer markets. These 1 or 2-row machines are small, versatile, and easily adaptable to different needs.
Trium
One of the models that has contributed the most to the international recognition of the company is this top of the range one, able to combine great performance and extreme precision in planting seedlings in the best possible way.
Each single function is individually adjustable, making the TRIUM particularly suitable for large working widths, for multi-row machines and/or for non-level terrain.
Unitrium
This model is very similar to the Trium but without a parallelogram and with independent driving wheel for each transplantation unit.
It is ideal where high performance but great ease in use are sought, as where old machines need to be upgraded with independent traction units, maintaining even the framework of the support wheels.
The hemp market is booming and many farmers are ready to catch the wave and start growing it for its various uses which are expansive. The best way to get in and growing fast is to use a reliable and proven transplanter. 
Hemp is a multi-faceted plant. The hemp plant fibers have many industrial uses in the manufacturing of paper, textiles, clothing, biodegradable plastics, paint, insulation, and biofuel. The hemp oil )(CBD) has the ability to help with many medical conditions including the possibility of reducing and/or controlling seizures and alleviating cancer-related symptoms. Food derived from the hep plant and seed is now becoming renowned as the new "Super Food"! Really? Yes, really!! Hemp foods are rich in protein and have all 10 essential amino acids, plus more vitamin benefits. Many states are passing laws to be able to grow it for certain uses.
It is now proven that the agronomic process for the production of CBD of high quality and degree of purity starts from a genetic selection of the plants that must be imperatively all female. The only way to avoid contamination is by transplanting seedlings a swell as mother plant clones. 
Ask anyone who has used our Checchi & Magli and they will tell you it is the Best Transplanter on the market even for clones/seedlings for industrial hemp.
Sets plants straight up

No slippage

Consistent plant-to-plant spacing

Better packing 

Better yield
We have transplanters for direct ground, for plastic and, also for NO-Till conditions.
For those who decide to take the hemp route, Checchi & Magli (C&M) already has a proven track record in this sector, especially in North America but not only. 
Trium- is the No. 1 carousel transplanter in the world, suitable for transplanting on bare ground, it is fast and precise at the same time. Available from 1-12 rows with rigid frame, hydraulic folding or towed. A NO-Till option is also available. ​
The Wolf Pro- is instead the model designed for transplanting on plastic mulch, equipped for perforating cups that penetrate the ground, it leaves perfect holes in the plastic without dragging. It features a synchronized electronic system that waters the seedlings while transplaning. Available from 1-6 row. It can mount from 1-8 cups for a plant to plant spacing ranging fro 25-200 cm (10″- 80″). In addition, we can offer our Plastic Stop Plus plastic layers, from 1-3 rows with rigid or folding hydraulic frame. Ger started fast, get started right, with a C&M transplanter.
CBD HEMP transplanting with TRIUM model by C&M (Checchi & Magli) for direct ground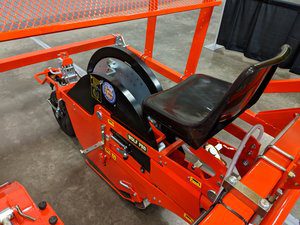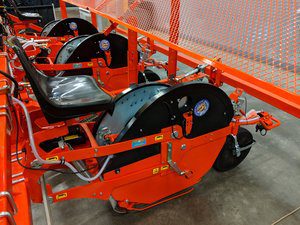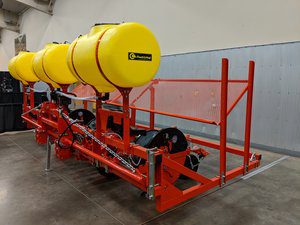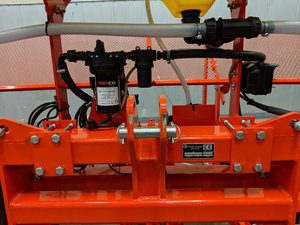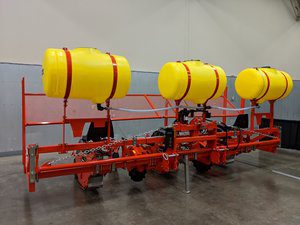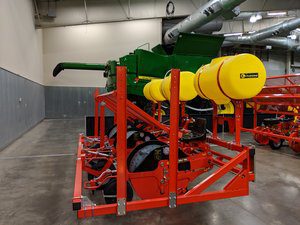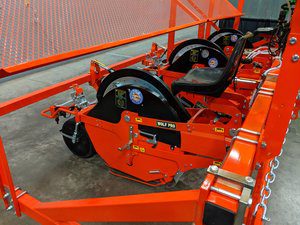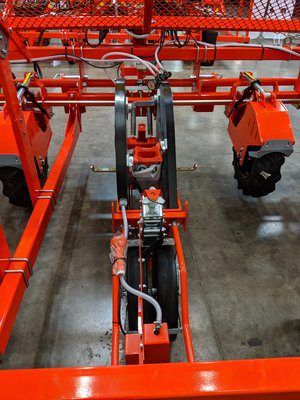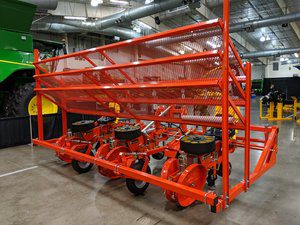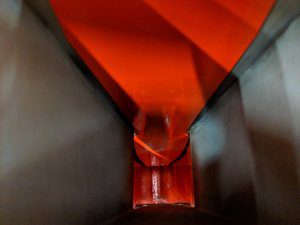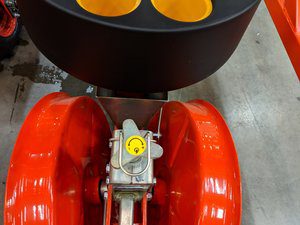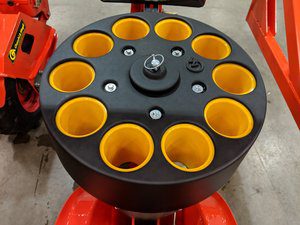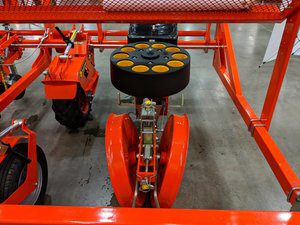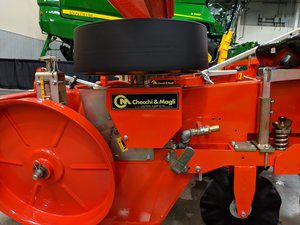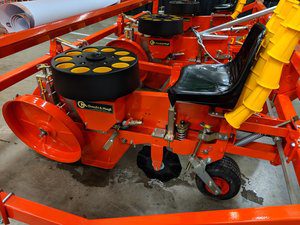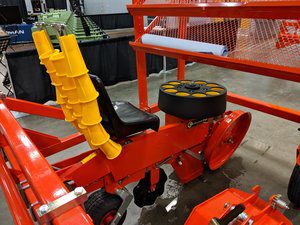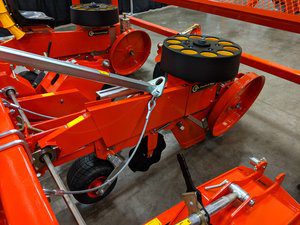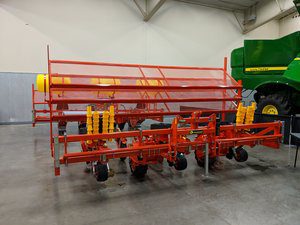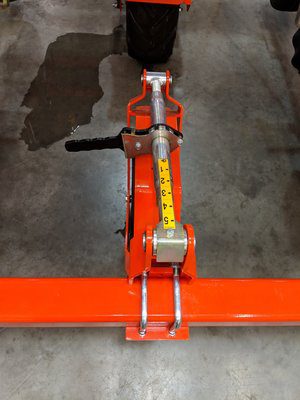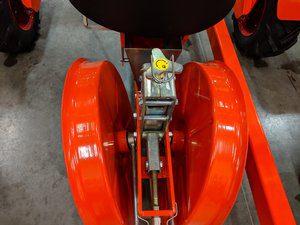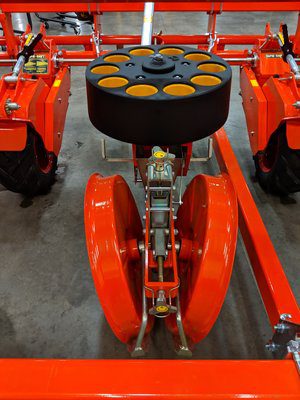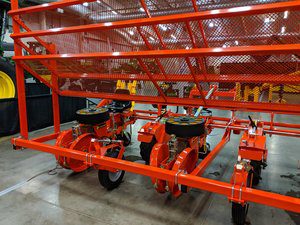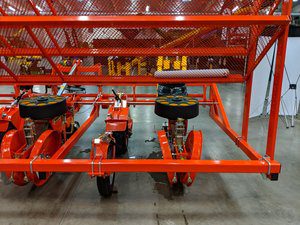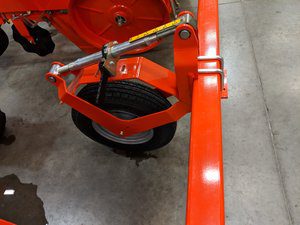 History
The Checchi & Magli company was founded in 1976 in Budrio in the province of Bologna where the headquarters and the 3 production plants are still present today; in 2006 a sales office was opened in the United States to shorten distances and provide ever more immediate support to the North American customers.
The company's core business consists of the transplanter machines for vegetable, tobacco and nursery seedlings for which the company is world leader with an export amount that is steadily around 80% of the total turnover.
The range is completed with the potato cultivation and harvesting machines (potato planters, potato diggers and vibroridgers) from which the company originated, as well as plastic laying machines and bed making machines for cultivation on mulching film (strawberries, melons, watermelons etc…).
These factors of success and increasing popularity over the years are a serious trade policy, which has always taken the business to business line with reliable partners, extreme attention to detail and always an open ear to suggestions and to new requirements.
Checchi & Magli…made in Italy with Passion!!