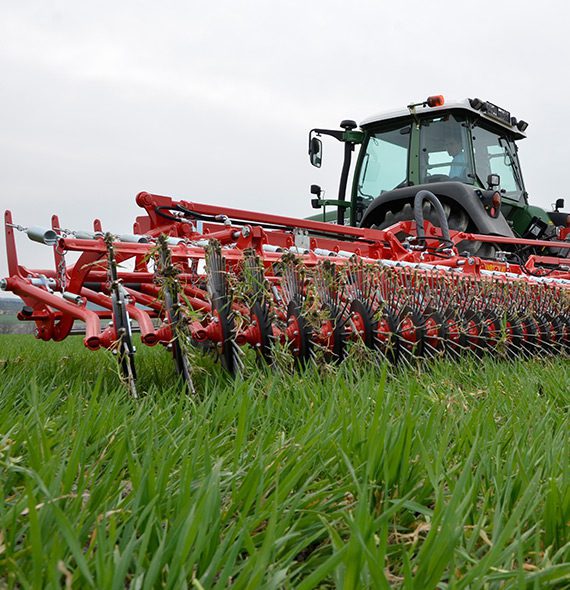 The hoeing machine in rear attachment version is equipped with an automatic top-steering. The steering wheels are guided by a mechanical connection with a high wheel-flange towards the slope. The hoe always runs right behind the tractor even at curvy operation. For slopes over 6%, this guidance system can additionally be equipped with hydraulic pre-steering.
At front machines, the retraction-adjustable parallelograms are pushed, this way a short construction of the hoe is reached. The parallelogram guided hoe elements are depth-guided by a Farm-Flex wheel accurately. Greaseable and stable linkages on the spring- loaded parallelograms, which can be adjusted subsequently, guarantee a long product life. The shares are adjustable in height and position, also suitable in deeper work position. The crop deflector plates can hang in different heights; therefore, you can reach an optimal heap through the correct tine position.
Fingerweeder
The fingerweeder was designed to work in the row (the sensitive line, approx. 8-14 cm) and to reduce or eliminate weeds there. The fingers are made of a synthetic material which protect the deep rooting crop and harms the weed. The fingerweeder can perfect work in combination with trailed duckfoot-hoes. No matter if corn, soybean, pumpkin or potatoes – in nearly every row crop the fingerweeder does a terrific job in the row.