The New Industry Standard in THC Remediation
The ENTEXS RMD-T series achieves industry leading THC Remediation Technology: Cost effective, loss rates below 5%, USDA Certified Organic solvent, scalable remediation solutions. Extensive in-house testing has demonstrated the ability to achieve very low loss rates on batches ranging in size from liters to thousands of liters regardless of the starting THC levels.
To further support product quality and safety standards, the process utilizes a proprietary solvent which is 100% USDA Organic under the National Organic Program and the system is designed and built to comply with cGMP standards.
While removal of THC is the primary objective, the ability to scale affordably is not to be under appreciated. As the CBD industry continues to explode producers will need to ramp production to keep up. Until now, the only large-scale option was industrial chromatography with a CapEx/OpEx of roughly 20x and CBD loss rates of 3x to 10x when compared to ENTEXS' RMD-T series.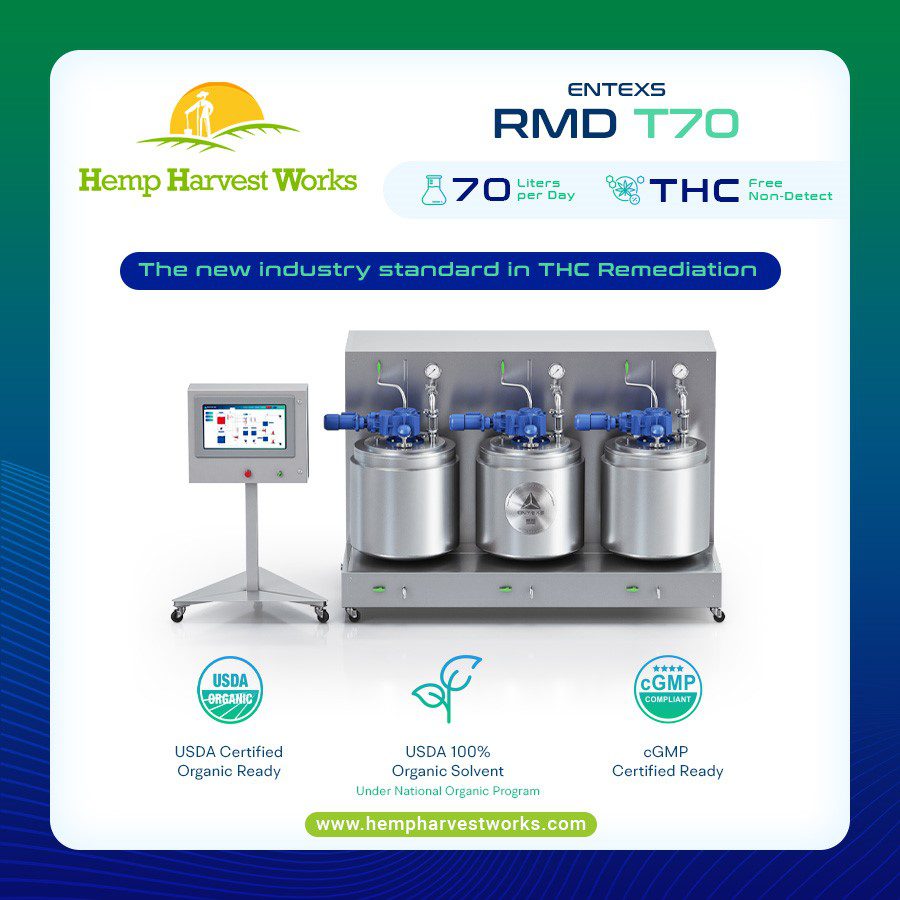 Specs
DIMENSIONS (APPROX.): 60" W X 96" L X 68" H
WEIGHT (APPROX.): 1800 LBS
INTERIOR FINISH: SANITARY SS <32 RA WETTED COMPONENTS
VESSEL SIZES: QTY 3 150 L
MAXIMUM WORKING VOL : 350 L
INSTALLATION AND TRAINING: UP TO 5 DAYS
AUTOMATION: FULLY AUTOMATED SOLUTION
CAPACITY: 70 L/DAY
Electrical specifications
VOLTAGE: CONFIGURABLE (480/240/208)
POWER: 40 KW
C1D1 / C1D2: NOT REQUIRED
Specs
DIMENSIONS (APPROX.): 96" W X 120" L X 98" H
WEIGHT (APPROX.): 3400 LBS
INTERIOR FINISH: SANITARY SS <32 RA WETTED COMPONENTS
VESSEL SIZES: QTY 3 500 L
MAXIMUM WORKING VOL : 1200 L
INSTALLATION AND TRAINING: UP TO 5 DAYS
AUTOMATION: FULLY AUTOMATED SOLUTION
CAPACITY: 200 L/DAY
Electrical specifications
VOLTAGE: CONFIGURABLE (480/240/208)
POWER: 60 KW
C1D1 / C1D2: NOT REQUIRED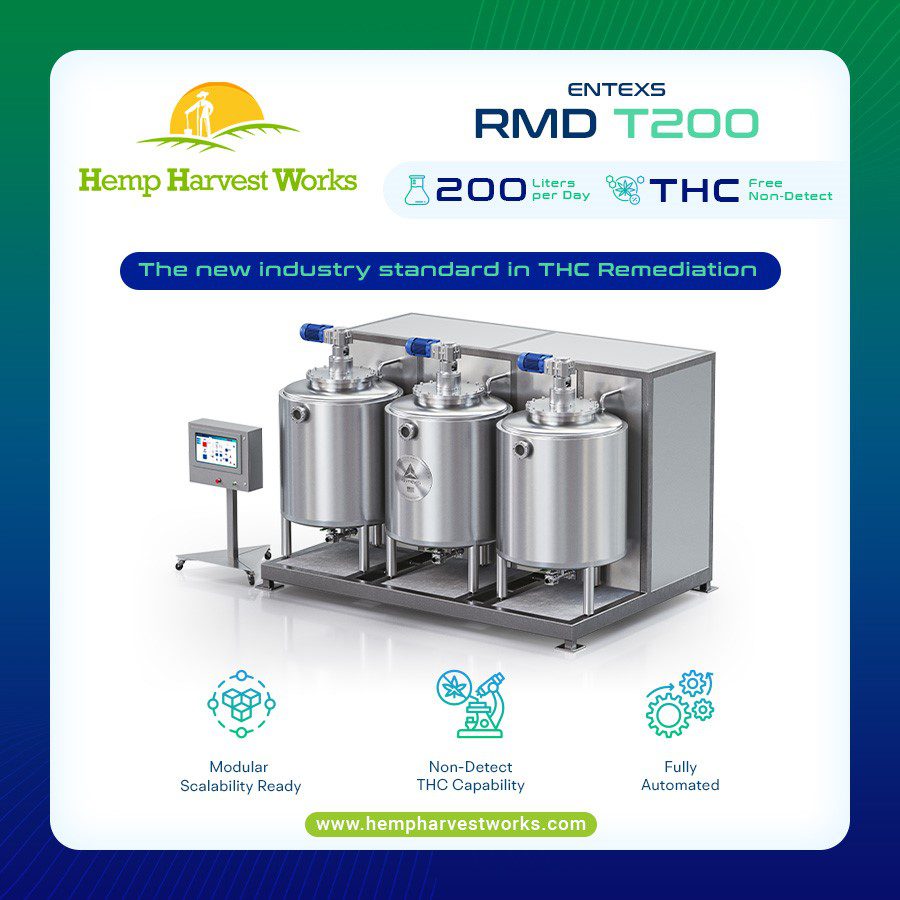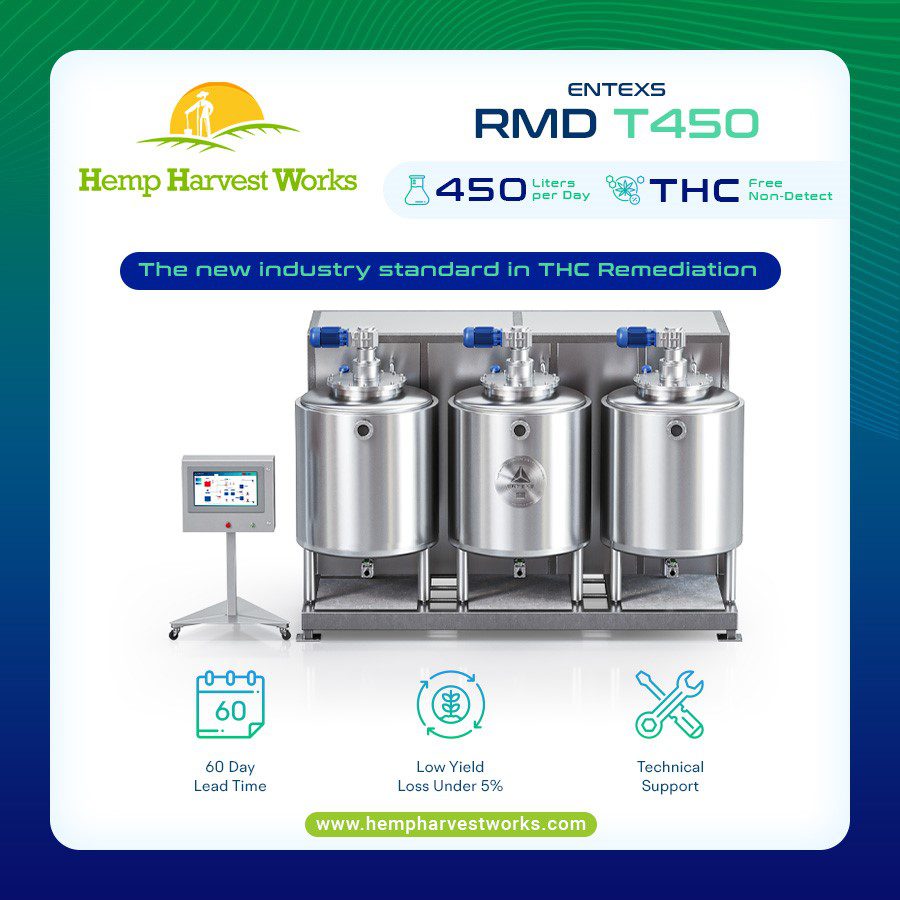 Specs
DIMENSIONS (APPROX.): 96" W X 120" L X 98" H
WEIGHT (APPROX.): 4500 LBS
INTERIOR FINISH: SANITARY SS <32 RA WETTED COMPONENTS
VESSEL SIZES: QTY 3 1000 L
MAXIMUM WORKING VOL : 2400 L
INSTALLATION AND TRAINING: UP TO 5 DAYS
AUTOMATION: FULLY AUTOMATED SOLUTION
CAPACITY: 450 L/DAY
Electrical specifications
VOLTAGE: CONFIGURABLE (480/240/208)
POWER: 80 KW
C1D1 / C1D2: NOT REQUIRED