The MINI 9 is a complete processing solution. The high-speed batch centrifuge with closed-loop extraction routines uses ethanol-based, ultra-cold temperature solvent, capable of capturing over 98% of cannabinoids and with more than 97% solvent recovery. From biomass to finished product, the MINI 9 features a hands-free process. The evaporation/distillation unit offers distillate offtake or full spectrum crude with push-button control. Terpene Extraction, Crystallization, and T-Free add-ons are available.
Hands-Free Technology
No-touch process throughout the extraction process eliminates potentially reduced efficiencies, compromised quality, increased labor, and safety risks.
Cloud Network
From your phone or computer, real-time and trend monitoring of the extraction process can be leveraged to optimize efficiency.
No Winterization
Bypass this extensive and time-consuming step by controlling and maintaining solvent temperature during the extraction process below -50°C.​
Closed Loop System
Solvent temperature control maintains precise extraction temperature. Combined with our automation, complete control over final product states can be configured and run.
Fully Automated
User configured routines and flow control from biomass to full-spectrum crude, distillate, and/or isolate.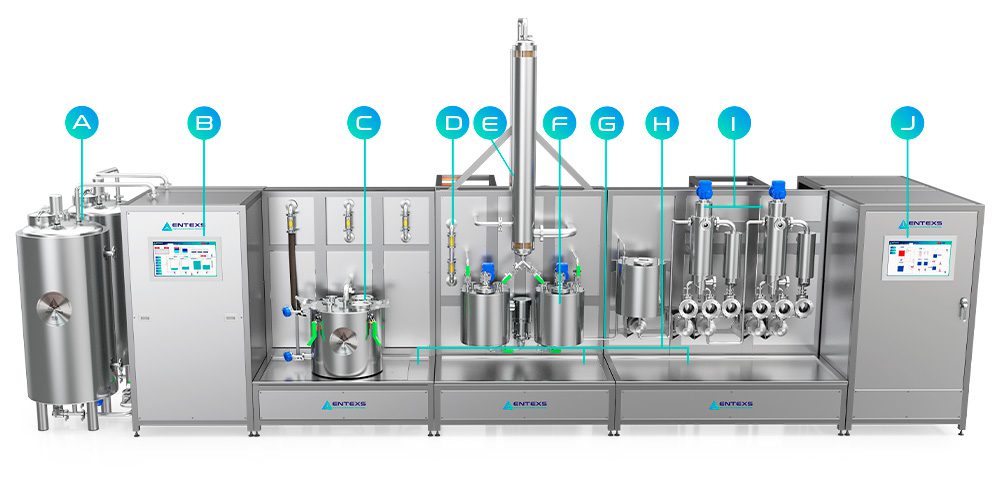 A. Jacketed/Insulated holding tanks allow cold solvent and tincture temp to be maintained while reducing system energy consumption.
B. Dedicated C1D2 HMI control interface allows automated hands-free extraction control at the point of use for precise, repeatable extractions with real-time performance feedback.
C. High-speed batch centrifuge extraction module with closed-loop tincture re-use routines includes integrated heat exchangers, automated valves, and sensors for touchless control. Post-extraction clean solvent rinse increases extraction efficiencies
D. Particulate and color remediation module filters cold extract directly from extraction, eliminating the need for winterization. Staged sight glasses allow product quality to be observed and maintained at all times.
E. RFE (Rising Film) and FFE (Falling Film) enable bulk solvent evaporation under vacuum at reduced temperatures to maintain product quality and profile.
F. Desolventizing reactor vessels remove residual solvent and enable in place decarb routines for true hands-free processing to a full spectrum crude final product. Dual vessels enable continuous extraction capability eliminating the need for rotovaps.
G. Jacketed and heated process lines enable product transfer without the need for heat guns or other manual heating needs.
H. Stainless steel drip trays under interface points to contain any product spills and allow for easy cleaning and product recovery.
I. Wiped Film (WFE) dual distillation module features heated feed tank with metering gear pump, 6" wiped film still with mechanical seal, dual cold traps for complete light volatile recovery, and mtorr high vacuum system complete with diffusion and roughing pumps. TCUs' maintain precise temperature control of WFE jacket up to 200 C, inner condenser temp up to 130 C and cold trap temps down to -80 C. Residue and distillate offtake pumps allow continuous hands-free processing to the distillate.
J. Dedicated distillation control interface allows automated hands-free distillation control at the point of use with real-time performance feedback.
BATCH RATE
BATCH SIZE: 20 LBS THROUGHPUT
CAPACITY: 900 LBS PER DAY
TEMPERATURE RANGE: CONFIGURABLE DOWN TO -80°C
ELECTRICAL SPECIFICATIONS
VOLTAGE: 208 / 240 / 480 (CONFIGURABLE)
POWER: 60 KW (NOT INCLUDING CHILLER)
ELECTRICAL RATINGS: CLASS 1 DIV 2
SYSTEM MODULES
BATCH CENTRIFUGE
SOLVENT STORAGE TANK (INSULATED)
TINCTURE STORAGE TANK (INSULATED)
MAG DRIVE RECIRC PUMPS
HEAT EXCHANGERS
FILTRATION SKID (PARTICULATE AND COLOR REMEDIATION)
EVAPORATION AND DUAL DISTILLATION SKID
RISING FILM EVAPORATOR
FALLING FILM EVAPORATOR
DUAL-STAGE WFE W/ SHORT PATH DISTILLATION
HTF SUPPORT SYSTEM
MAG DRIVE GEAR PUMPS
VALVES (MANUAL AND PNEUMATIC)
HIGH VAC (MTORR) SYSTEM W/ DIFFUSION PUMP
MECHANICAL SPECIFICATIONS
FOOTPRINT: 25' W X 7' D X 10' H
TEMPERATURE RATING: -80 TO 200°C
PRESSURE RATING: VACUUM TO 50 PSIG
SOLVENT HOLDING VOLUME: 110 GALLON
HMI INTERFACE: DUAL 24 INCH TOUCH PANEL (C1D2 RATED)
CONTROLLER: FPGA INDUSTRIAL CONTROLLER W/ WATCHDOG (C1D2 RATED)