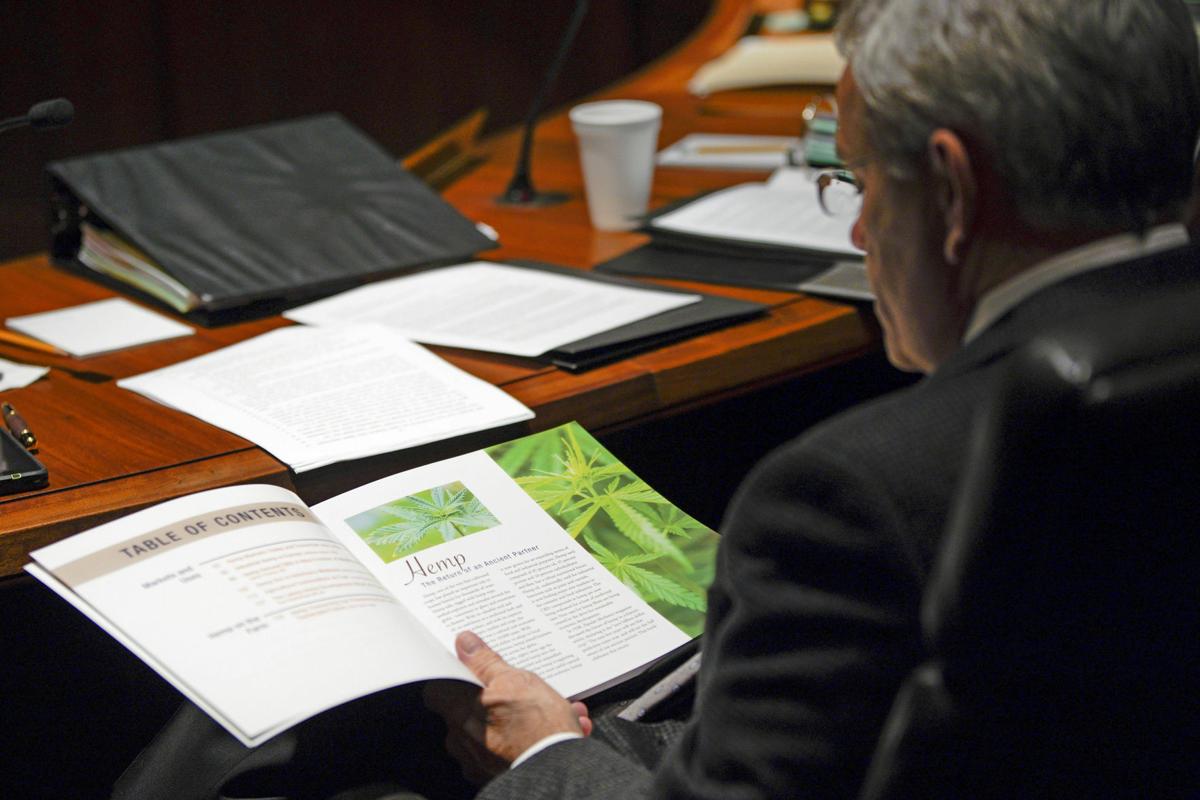 With growth and production of industrial hemp newly legalized by the 2018 federal farm bill, the Legislature began Tuesday to shape legislation that will hand beleaguered Nebraska farmers a new crop option.
"You can't get high on hemp, but you might make enough money to save the family farm," University of Nebraska at Kearney economics professor Allan Jenkins told the Legislature's Agriculture Committee at a public hearing on implementing legislation.
Sen. Justin Wayne of Omaha authored the proposal (LB657) and told the committee that it might result in manufacturing and marketing opportunities in the Omaha area along with agricultural opportunities in rural areas across the state.
"This is not marijuana," Wayne said. "It will not get you high; it's a safe product that can provide an alternative crop for farmers (and) an opportunity for Nebraskans."
Industrial hemp-based products range from automotive parts to textiles, furniture, fabrics, food, paper and construction supplies.  
"Soybeans, corn and wheat aren't cutting it for farmers anymore," Imperial farmer Roger Harmon said, and he's ready to take advantage of an opportunity to grow hemp on his land.  
What is needed now, Wayne said, is agreement on state regulations that will be fashioned by the Nebraska Department of Agriculture, which informed the committee that it supports the growth of hemp as a commercial product in the state now that it has been legalized by the farm bill. 
Forbes Magazine recently identified hemp as "a potential economic dynamo for American farmers" at a time of financial stress for agriculture. 
"Everybody wants to do it," Wayne said, "but we have no guiding regulations to do it" that are agreed to yet.
No one testified in opposition to the bill at the committee hearing.
"Nebraska is stuck between corn and soybeans," Andrew Bish of Giltner said.
"Hemp is appealing to Nebraska farmers (and) will improve the economic outlook for Nebraska," he said.
"Growing conditions are favorable for hemp in the state," said Jenkins, the UNK professor. "This could be a shot in the arm for the Nebraska farm economy."
The Nebraska Farm Bureau and the Nebraska Farmers Union supported the legislation, pointing to the opportunity for diversification in Nebraska agriculture.
"It's a growing market and we need to allow Nebraska farmers to produce alternative crops," Wayne said.
"The industry is growing and Nebraskans are missing out," he said. 
"This is the time," Farmers Union President John Hansen told the committee.
Before the 2018 farm bill drew a clear distinction, industrial hemp had been widely associated with marijuana even though it does not contain the same concentration of ingredients that can turn it into a recreational drug.