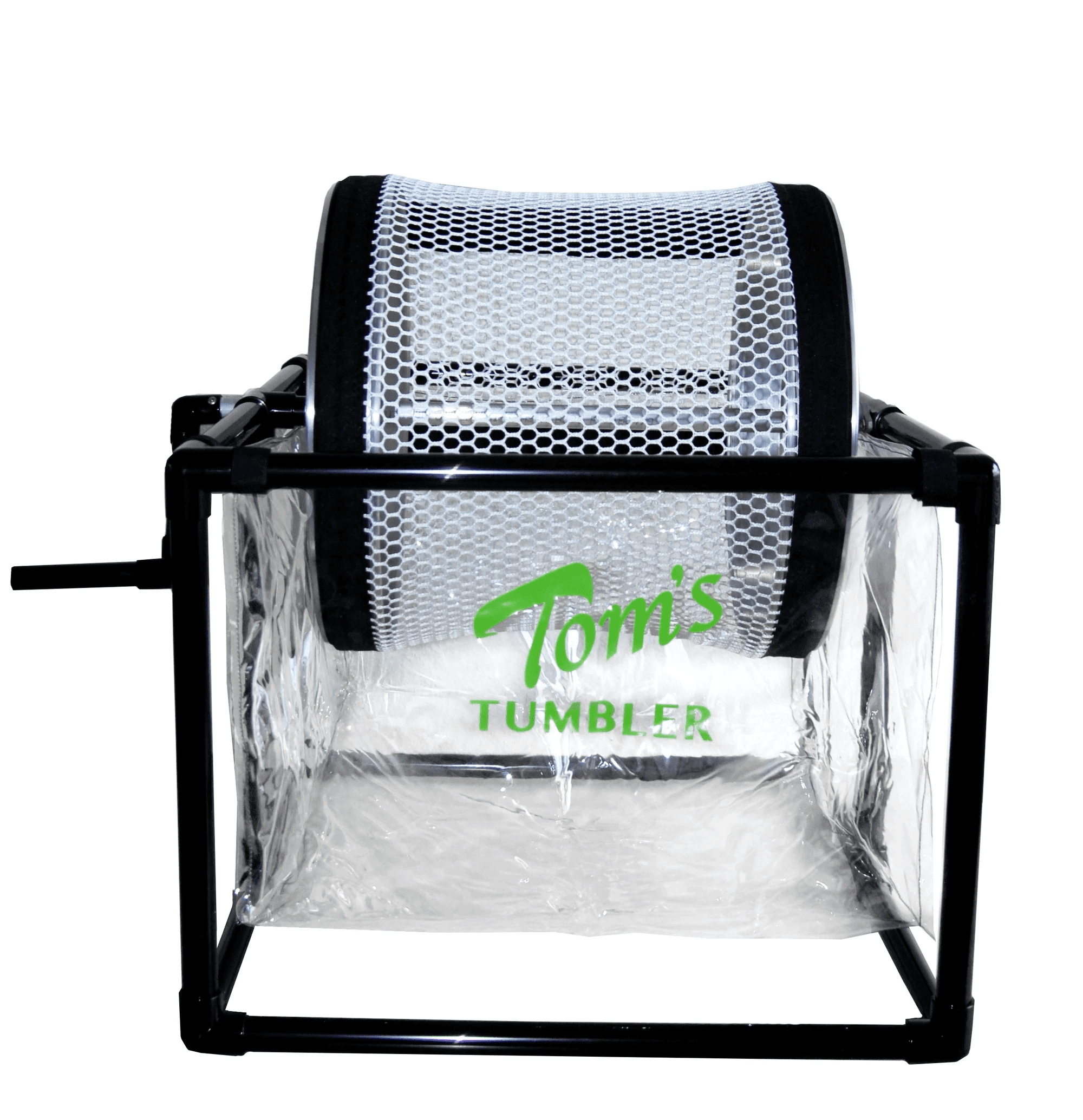 TTT 1600 Hand Crank Table Top Dry Trimmer
This is Tom's original, popular handcrank model, first released in 2013.  It is affordable, easy to use and a great way to test out the tumbling technology if you are quite ready to buy a TTT 3000.  It is small enough to fit on a table for trimming, but large enough to tumble 1 lbs in 5 minutes or less.
The handcrank requires you to turn the barrel with the easy rotation barrel.  It is made of furniture grade PVC and is easy to assemble/disassemble and store.
Specifications
Furniture-grade PCV frame, food-grade aluminum drums and axle, one MeshNet for trimming, and clear catch bag.
Functions
Dry trimmer/cultivator removes small leaves from flowers gently and efficiently, preserving structure, aroma, and trichomes. System trims dry product only (not for wet trimming unless used with CO2 adapter). Additional MeshNets can be purchased for separating and extraction.
Capacity
Process 3/4- 1 pound per 3-5 minute cycle; 1-6 pounds per hour.
Dimensions
23.5" x 29" x 26"
Features
Gentle
Super Quiet
Fast
Effective
Safe
No electricity needed
Easy to use
Minimal maintenance
Ideal for
Small growers who process off-grid or want to save electricity.
Warranty & Maintenance
Warranty
All parts are covered by one year warranty for replacement.
No returns on trimmers.
Maintenance
Minimal maintenance required. MeshNets are machine washable. Pollen net can be washed by hand with alcohol. Lubricate zippers with beeswax or aerosol spray cooking oil.
Assembly
Some assembly required. Directions included.
Shipping
Ships in one box, 16.2 pounds (28 lbs Dim. weight).
Optional Accessories (additional charges)
1/4" Mesh net for separating
Kief net
Dust Cover
Product Number: TTT1600-HC
UPC: 680168932780