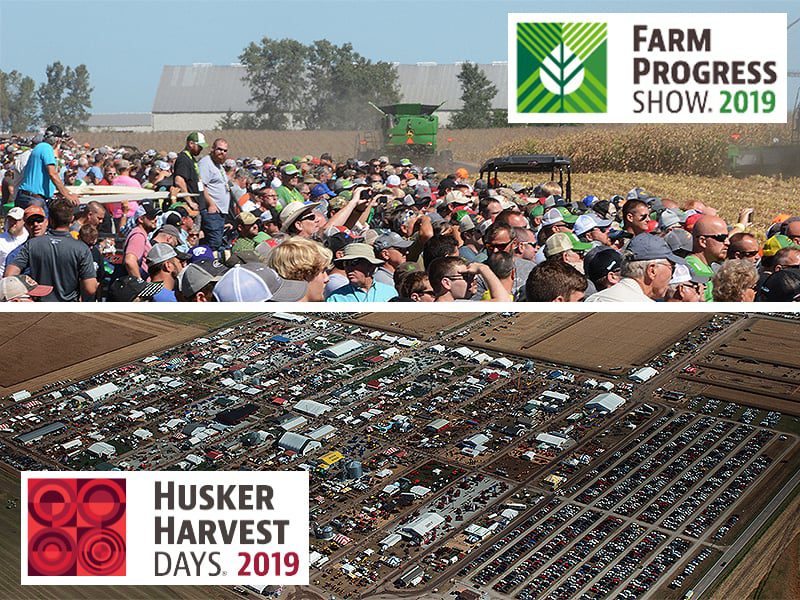 A No-Till Farmer Staff Report
The summer farm shows offer a great way to see the latest innovations in ag equipment. Between the Farm Progress Show in Decatur, Il., and Husker Harvest Days in Grand Island, Neb., No-Till Farmer staffers found a wide array of offerings to help improve operations.
Kuhn Debuts New No-Till Drill
The new 9400NT no-till drill was launched in Decatur at Farm Progress in 10-20 foot widths, featuring no-till fluted coulters and a spring down pressure system to consistently slice through residue. Alignment between the coulter in front and the opener in the back is set at the factory so there's no additional adjustments needed after delivery.
According to Peter Goodge, product manager for Kuhn, the Pro Series opener "uses a tandem walking axle system with a gauge wheel front and rear to make sure the opener can follow ground undulations and keep seed placement very precise. With this opener, we can see up to 50% more precise seed placement compared to other styles of openers, such as single arm or parallel linkage that are on the market."
The two rows of openers are spaced 11 inches apart front to rear for residue flow through the machine that avoids plugging in high-residue no-till operations. The opener blades are offset so the leading blade always has a cutting edge so it can slice through any remaining residue. The 3.8 bushel per foot capacity hopper is available in three configurations — single seed, split hopper for two types of seed, or split hopper for seed and dry fertilizer together.
The Helica metering system on the 9400NT is unique to the market, says Goodge. "The flutes on this meter, instead of being straight, are actually spiraled around. With this spiraling fluted meter, we get consistent seed flow out of the meter as it rotates instead of the pulsing effect you tend to get from a meter with a straight flute." With the consistent flow of seeds and the smooth drop tubes, seed placement is very even, Goodge says. 
An optional ISOBUS-compatible display gives producers the ability to monitor bin level, meter drive, acreage and more.
Yetter Debuts New Adaptable, Adjustable Fertilizer Opener
The 2969 IntellNject fertilizer opener from Yetter Mfg. places 2 bands of fertilizer behind the closing wheels up to 1½ inches deep and 2-3 inches off the row. It utilizes an air cylinder for in-cab adjustments to downforce or to raise the unit when not in use. According to Derek Allensworth, marketing manager for Yetter, this is especially useful if you're using the same machine to plant corn and soybeans.
"There's a lot of different fertilizer openers on the market, but to go from corn to beans, you have to remove something or adjust it out of the way. But this will give you the capability of raising the fertilizer opener out of the way with just the flip of a switch from the cab," says Allensworth. The other benefit, he adds, is that it is independent of the row unit, allowing it to follow the soil contour for more consistent fertilizer application.
SureFire Adds Remote Features to QuickDraw 3000
The QuickDraw 3000 is an update to the company's fully automated spray tender system. Through changing conditions, the system calculates what goes into the sprayer, measures and mixes a batch of chemicals directly into the sprayer.
According to Mike Wolters, marketing manager for SureFire Ag, "It starts with a recipe of the products and rates per acre of those products. Then we tell it how big of a batch we're making and it automatically calculates how much of each product we need. Then, when the sprayer pulls up, we connect, and in 8-10 minutes, we can completely mix a 1,000-gallon batch without touching any of the chemicals."
New features include a 10-inch screen that's 6 times brighter than the previous model, a companion iPad app that can be used as for remote display and remote start batch, multiple carrier blending for 3 products and auto batch calculation for easier chemical mixing and loading of the sprayer.
"It's been calculated that sprayers running in the field are worth $20 per minute and so every minute that we can save tendering is more productivity and greater use efficiency of that sprayer asset," says Wolters.
Martin-Till Launches Weight Transfer System for Planters
Excess weight in the center of a planter or improper weight distribution often leads to yield- robbing compaction, shallow or inconsistent planting, and reduced plant vigor. In addition, the natural reduction in weight that occurs during planting contributes to the problem of down force fluctuations that can negatively impact the accuracy of seed and fertilizer placement.
Developed in partnership with KE Precision, Martin Industries' new Martin-Till Weight Transfer System (WTS) addresses this weight problem by redistributing excess weight from the center of the planter to the wings. Keeping the wings level and the row units in the ground will keep planting depth consistent through changing conditions.
Steve Martin, president of Martin Industries says the bolt-on bracket design requires no welding, is easy to install and is extremely strong.
"It tab-locks together so the load that's transferred to the bar is not transferred through the row unit bolts, it's through the top plate that sits on top of the toolbar. It uses L-bolts to pull in two different directions, so it's going to stay in place when it's properly hooked up," he explains.
The sturdy construction allows farmers to apply 3,000 psi via a 3-inch hydraulic cylinder without causing movement on the toolbar and the mounting bracket lets operators use the unit in conjunction with frame-mounted fertilizer openers. An in-cab control box allows for adjustment as during planting.
"We see there's a real need in the industry to not only make the wing have enough down pressure to transfer to the row unit but to relieve pinch row compaction in the center. So we're fixing one problem and helping another at the same time," says Martin.
Solutions for Industrial Hemp
With industrial hemp now having gained legal status for growers in the U.S., several manufacturers have started producing equipment for planting and harvesting this niche crop.
Great Plains Hemp Seed Disc
With the high cost of CBD hemp seed, accurate seed singulation and spacing is crucial for those who are direct seeding their industrial hemp crop. The latest addition to the Great Plains Air-Pro Meter discs, the hemp seed disc is specifically designed for the unique shape and weight of hemp seeds.
Hiniker displayed a prototype hemp harvester, their second design since the beginning of 2019.
The single-row rotary cutter shears the fibrous stalks, which are then conveyed into a wagon for transportation to a drying or processing facility.
"Our previous model was a 3-row machine, but for this we went a single row because of the variations in row spacing that producers use in the field," says Matt Morrison, director of sales & marketing for Hiniker.
Intended for use with CBD hemp, it is designed to cut plants that are about 8 feet tall.
SuperCrop Hemp Header
A true first, the SuperCrop hemp header from Bish Enterprises is a combine header that is designed to reduce or eliminate the wrapping issues that are widely associated with harvesting hemp. An optional backscreen with plexiglass reduces seed shatter for higher yields. The flexible set up allow you to harvest rows planted anywhere from 7½-40 inches apart.
Hawkins Core Planter Platform
New from Hawkins, and debuted at Husker Harvest Days in Grand Island, Neb., the Core Planter Platform is a 3-point fold-and-stack planter toolbar that lets farmers build a planter customized to their needs.
"The hitch design is compatible with category 3 and category 4 tractor hitches, so if you need to swap from one tractor to another, you're always ready, just insert whichever pins you need for that particular machine," says Ben Adams, factory-to-farm pro for Hawkins.
Available with or without row units, the system has integrated electrical and hydraulic routing features to eliminate the tangle of wires associated with a lot of equipment. The engineered design accommodates all electronic components, making installation possible with simple hand tools. The optional row units are built to accept Precision Planting products.
It is made with ½-inch thick steel, providing more pressure and downforce while planting. The outer wings feature a hydraulic down force system to maintain pressure on the outer rows. "It still allows the wings to float as much as 12½ degrees down and 12½ degrees up, so you've got a nice wide range of movement as you go through the field, but it maintains pressure on the wings so you don't have to worry about them riding out of the ground," says Adams.        
Galileo AgriCup Wheel
When you look at the Galileo AgriCup Wheel, the first thing you notice is the unusual design. Instead of sidewalls that flex outward, the sides cup inward. They also look like they're flat, as they're designed to run at low psi to deliver a bigger footprint, better traction and a smoother ride.
"The unique design allows us to inflate the casing without having it bulge out, and once we achieved that, we gained a lot of properties, such as the bigger footprint, which reduces ground pressure and soil compaction. The drawbar capability has been increased by a significant amount, depending on size and soil. And ride comfort is better — it may be the first thing a user would notice, which is very important," says Avishay Novoplanski, co-founder and CEO of Galileo Wheel.
Inspired by a simple paper cup, this unique design provides maximum sidewall flexibility while also delivering lateral stability for good steering and improved performance on slopes, says Novoplanski. In addition, because the sidewall cups inward instead of bulging out, the sidewalls, which are very thick, are much less likely to be punctured by standing residue than a standard tire. In the unlikely event of a puncture, the run-flat capability ensures zero downtime, allowing you to finish the day's work uninterrupted.
According to the company, the AgriCup tires are made with the same rubber and molds as regular tires, they're manufactured in the same production facilities and they can be used on standard rims, yet in terms of performance they are closer to a track. "You get the simplicity of a wheel with the benefits of a track," says Novoplanski.
Unverferth Cover Crop Seeder
Designed to sit atop the Unverferth rolling harrow, the new cover crop seeder allows for one-pass seeding and incorporating for good seed-to-soil contact, getting cover crop established quickly and easily.
"We've been hearing a need in the marketplace for a quick and effective way to put cover crops on the field. With the seeder installed on the rolling harrow, the seed is dispersed through the tubes to a diffuser that spreads the seed out in front of the rolling harrow baskets, and the baskets are designed to grip and churn the soil for good seed-to-soil contact," says Shawn Gerdeman, product manager for Unverferth.
Available on 18-37-foot models 1245 and 1245D, the hopper features a 32.5 bushel capacity, side-mounted sight windows and a roll-over tarp with grounder operation to protect the hopper's contents. Air delivery with tapered seed deflectors provide seed accuracy and prevent seed from drifting in the wind.
The roller-style chevron meter design creates a continuous flow of seed and can handle most cover crop varieties, says Gerdeman. Seeding rate is controlled by tractor speed and electronic-over hydraulic meter control.
Meters can be removed for easy cleanout. The operator can monitor fan pressure, seed level and seed meter function with hopper-mounted indicator lights and raise of lower the machine with a cab-mounted foot switch.
Montag Fortifier
Montag Mfg. and Hagie Mfg. have come together in a joint marketing agreement, bringing together the STS sprayer line and Montag's new Generation 2 dry delivery system to the cover crop application business.
The Fortifier 2212 utilizes the patented Generation 2 twin-bin system to power the delivery system. Standard features include twin-bin design with 150-cubic feet of capacity, 4 section control, a pair of boost fans to give it maximum flow, dual ISOBUS scales and the Montag Dry Rate Controller. 
"The Fortifier line was developed from the ground up to fit the Hagie STS line" says president and CEO of Montag Mfg., Anthony Montag. "We believe that developing products that increase the sustainability of agriculture is in our best interest and we are committed to helping today's farmers be more profitable as well as conservation minded."
Seeding a cover crop in standing corn requires a machine that can meet the demands of high clearance travel, accurate seeding rates and plenty of acres per hour. The Fortifier is available for installation on 90- and 120-foot booms offered on the on 2014 and later Hagie STS12s. 
Pivot Bio Proven
Pivot Bio is in its second season with Proven, its new microbe for corn. A naturally-occurring microbe that lives in conjunction with corn, Proven is applied in-furrow at planting and creates a symbiotic relationship with the corn plant, consuming sugars released by the plant's roots and in return giving off ammonia, which the corn is then able to take up as nitrogen (N).
Unlike the "wild" version of the microbe, which shuts off in a high-N environment, Proven is designed to consistently produce N daily throughout the growing season until R4.
"It's the very first N product that's actually labeled…on the label it says 'produces ammonia, a readily available nitrogen for corn.' We're the first people to make that claim and we had to prove it at a state-by-state level with the regulators that we do what we say we do," says Mark Reisinger, marketing director for Pivot Bio.
According to Reisinger, applying the microbe at planting along with a normal N program has been shown to increase yields by an average of 7.7 bushels compared to acres that used only chemical fertilizer as its source of crop nutrition. Additional tests in which producers actually replaced 35 pounds of N per acre with PROVEN showed a 0.3 bushel loss, which Reisinger says means farmers could eliminate or reduce a sidedress pass of N and still maintain yields. Furthermore, corn plants treated with Proven had 22% more biomass than non-treated plants.
The microbe is not subject to denitrification or runoff, even after extreme weather events, so it is safe for the environment and provides strong ROI. It has been tested in 47 different soil types across 13 states from New Orleans to North Dakota and the trials demonstrated that the microbes thrived in all environments. It is compatible with a wide range of starter fertilizers but should not be used with high-salt packages or N stabilizers.