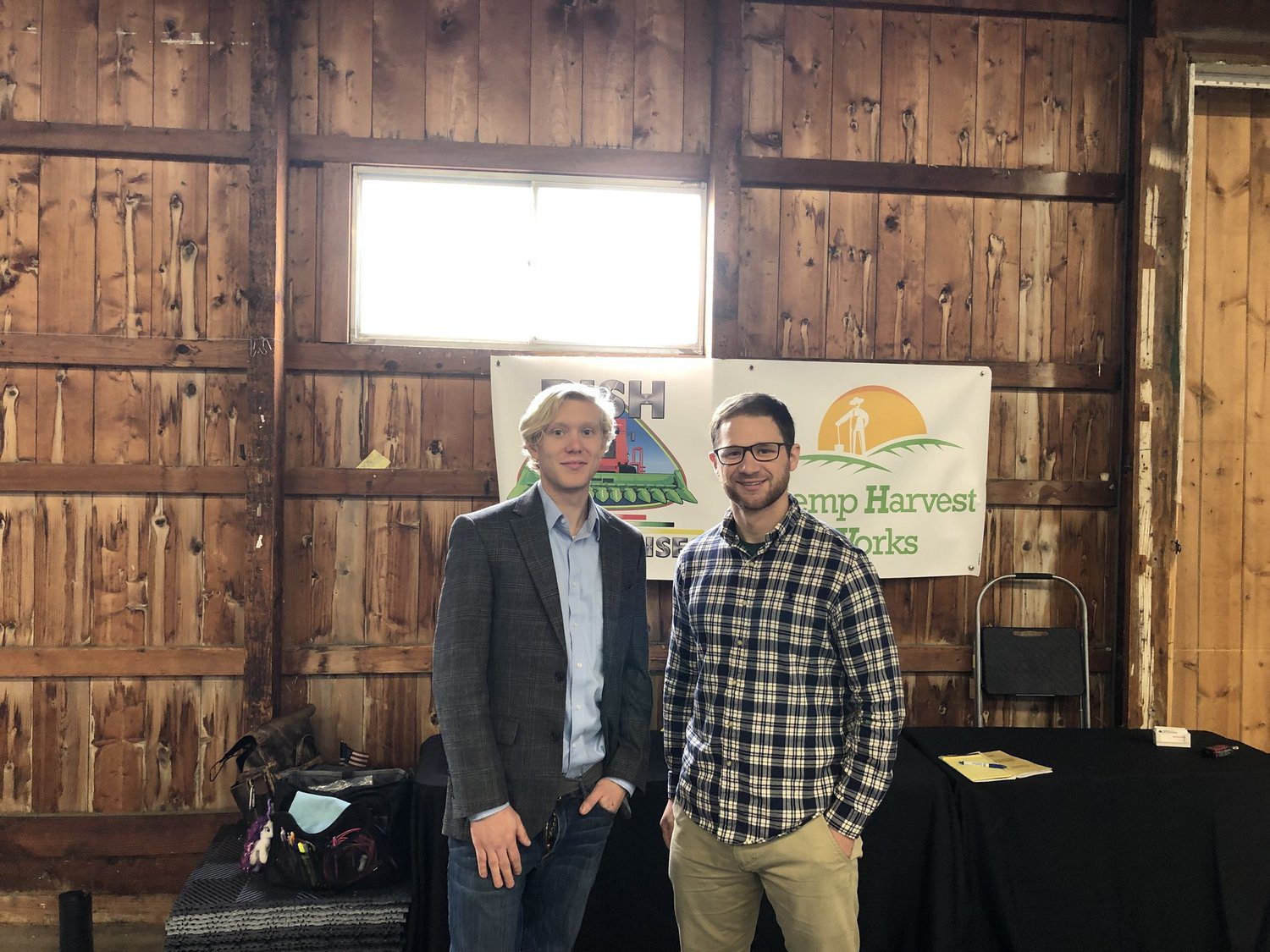 The first annual Ohio Industrial Hemp Farm Summit occurred November 17th at Delaware County Fairgrounds starting early in the morning running late into the evening. The event was well attended with over one-hundred people showing up. It was organized by Julie Doran, founder of Meigs Fertilizer and #hemp, and featured an impressive speaker series covering topics such as the history of hemp, the multiple uses of hemp, and updates on how the State of Ohio is addressing Ohio's hemp industry.
For Ohio's first hemp summit ever, I was impressed with the overall quality of the event. The vendors were diverse and had insights into the hemp industry that could only be gained through years of experience. I was able to interview each vendor at the event courtesy of Tim Johnson, founder of Cannabis Safety First and associate founder of the Ohio Cannabis Chamber of Commerce, and was able to meet some truly remarkable individuals. Once again, I would like to thank both Julie and Tim for organizing a great event that was educational and a place for Ohio's hemp community to network and meet each other.
Below, I was able to capture a few brief moments of each vendor's time and included a picture of their booth and a quick snippet on them.
Bish Enterprises, Jacob Bish
Bish Enterprises is a family owned hemp harvesting machinery company with over forty years of experience. It was started in 1976 and its primary goal is to help solve issues for farmers with easy inexpensive solutions. When I met Jacob at his booth, there was a giant kiosk in front demonstrating one of their newest products – a post-harvest machine. The video showed farmers inserting hemp bushels on one side and the machine automatically processing it and spitting the stem out the other end. I asked Jacob how fast the machine could process hemp and he replied it could process roughly one-thousand pounds every eight hours. 
After I was done speaking with him, he presented Bish Enterprises at the summit and spoke about the history of harvesting equipment and how it evolved over time. It was remarkable to me how much knowledge he had on hemp and after reading more about him I learned he had spent four years at the University of Nebraska studying industrial hemp before rejoining his family at Bish Enterprises.
Cannabis Safety First, Tim Johnson
Tim wore many hats at the summit but you could pick him out from the crowd wherever he was because of his charismatic personality. Tim is an Air Force veteran and retired Ohio Peace Officer and has spent the early years of his life in law enforcement. In 2014, he created Cannabis Safety First, a security and educational firm, that played a foundational piece in passing Ohio HB 523 (Ohio's Medical Marijuana Control Program). Cannabis Safety First is a state-compliant security company that also consults with designing security systems as well as educating employees at any business that uses their security systems.
Tim also presented at the summit but switched hats and as an educator spoke about the evolution of hemp laws in Ohio. He started with a federal overview of the 2014 Farm Bill which opened the door for hemp research and development in the United States. Although Ohio did not participate in hemp research or development, the 2014 Farm Bill opened the door for states to decide. Transitioning from the federal level, he also spoke on Ohio legislation and the Ohio Agriculture Revitalization bill. I was really impressed by the depth of knowledge and dedication Tim had over Ohio's industry. 
Canna Clamp, Stephen Concilla
Centered in the middle of the summit, Stephen was set up with a large selection of products in front of him and was demonstrating how some of the products worked. Canna Clamp, as the name states, is a handheld rosin press used for pressing essential oils. Stephen walked me through the uses for it and afterwards gave me an overview of their parent company, Midwest Concentrates which was also founded around the same time in 2015.
Midwest Concentrates has a CBD isolate and distillate based product line and while there Stephen showed me some of his distillate and CBD dog treats. Aside from learning about how concentrates are made and playing with the canna clamp, I asked Stephen if he had any concerns about Ohio's concentrates industry. He mentioned he was concerned with Ohio's limitation of cannabinoids allowed at 70%. I followed up with "Why?" when I learned that most concentrates contains at least 75% cannabinoids compared to flower which usually only has 20% to 30%. A brief note CBD is a cannabinoid along with THC  and by limiting the concentrate to 70% Stephen feared it would dilute the strength of products across Ohio.
Columbus Botanical Depot, Joseph Brennan
One of my favorite booths, the cleverly named Columbus Botanical Depot is a wholesale retailer and CBD store featuring a learning center as well. Joseph started his business two years ago after losing a close family member to cancer. He attended the Cleveland School of Cannabis and learned about the health effects of CBD and instantly became a proponent of it and initially marketed his business by giving away samples of CBD to help testify to the strength of its healing properties.
His store is located in Columbus and has gained national attention for being the country's first CBD exclusive store with often-times free educational services. Although Joseph did not speak at the summit, I did learn more about his business and in particular his passion for education on CBD. Cannabidiol or more commonly referenced as CBD is a non-psychoactive cannabinoid found in hemp and marijuana that can be extracted and used to treat anxiety, inflammation, and sleeping difficulties. Joseph mentioned near the end of our conversation he may be hosting an educational event at his store in December, if so, I would recommend it to anyone interested in learning about the cannabis industry in general to attend. 
Gertsburg Law Firm, Nicholas Weiss
The only law firm that was present at the summit, Gertsburg is an entrepreneur and active law firm advocating for the cannabis and hemp industry at large. Gertsburg is a small firm located in Cleveland and Chagrin Falls and has played an instrumental role in shaping policy in Ohio. In a recent decision by the Ohio Board of Pharmacy, the board classified CBD as cannabis and held it was not exempt from their purview and was therefore illegal to possess. In the following weeks, a store owner who at the time thought he legally sold CBD was arrested and prosecuted for having CBD in the back of his store out of view and not for sale.
Gertsburg is currently representing him and additionally are filing a lawsuit against the board for their classification. In their lawsuit against the board, they correctly argue Ohio's law (see O.R.C. 3796.01(A)(1)) excludes CBD from the definition of marijuana. However, due to their status as a small firm, they currently do not have enough funding to litigate against the board and save Ohio's CBD market. When I spoke to Nicholas though, he was optimistic about the outcome and walked me through his strategy on how to overturn the board's decision. Gertsburg is currently soliciting funding while preparing to litigate the board's decision.
Hemptations, Beach
Simply referred to as Beach, Beach was my favorite speaker at the summit. For over twenty-five years he has worked in the hemp industry and opened temptations in September of 1995 which carries the largest selection of hemp products with four stores spread across Ohio. When Beach presented, he spoke about the history of hemp and how the U.S. once encouraged farmers to grow hemp. Hemp was used for clothing, food, and an essential part of the war efforts during World War II (see Hemp for Victory).
 Apart from his business, Beach was an enthusiastic hemp expert and was one of the leaders of hemp in Ohio. I asked him what he thought of hemp reform in Ohio since Ohio does not allow hemp farming under the 2014 Farm Bill. He expressed hope that after the 2018 Farm Bill passes Ohio would rethink their position on a multi-million-dollar industry and allow farmers to start growing hemp again. At his table (picture above) he also had a huge selection of products made from hemp such as hempcrete (stronger and more efficient than regular concrete), a suitcase made from hemp, and hemp in its various stages as its processed.
HempWorx, Julie Strawser
HempWorx is an emerging company that has really bloomed in the past year. They produce CBD products such as oil, coffee, and topicals using a Co2 extraction method along with door delivery. Additionally, they do not use any synthetic materials and test their products to ensure they are THC free (although you can also buy product with THC). When I spoke to Julie about her products, she told me one of the main concerns consumer have with buying CBD products is the fear they could be fired for using CBD. Because HempWorx works to make THC free products, drug tests will come back negative and consumers will not have to worry about being fired.
HempWorx offered a variety of products and they were on full display for the summit. I asked Julie about some of the more popular products and she mentioned the CBD full spectrum oil was one of the more popular products. The oil comes in either 500mg or 750mg with and without THC. And as a final kicker, the products came in cinnamon, peppermint, and natural flavors which you could use to help add flavor to whatever product you decide to add their oils onto.
Meigs Fertilizer, Julie Doran
Amongst her many hats, Julie not only organized and ran the hemp summit, she also had twobooths. Julie is the owner of Meigs Fertilizer and #hemp. Meigs Fertilizer was established in 2015 and they do not use any synthetic chemicals in their fertilizers. She also had pamphlets at her table with detailed instructions on how much fertilizer to feed plants and how often. While she was away from her booths, I was able to speak to one of her employees on what his favorite product was. He mentioned "Big Tops". Big Tops is a bloom booster that increases yield by adding predominantly potassium and phosphorous to the soil.
In Julie's other booth the sign #hemp was in one corner of it with various CBD products across it. #hemp is the other business Julie owns and they specialize in making CBD topicals and oils. When I looked over the table, the one product that caught my eye was '#hemp Buckeye Rub'. It was a topical relief cream for sore muscles and is a blend of 200mg of CBD and natural essential oils. Next to the rub was '#hemp Buckeye Cream' which was similar to the rub except the cream is used to repair skin and sooth any inflammation. 
I was able to talk with Julie briefly between all of the jobs she had at the event and I asked her what made her product different from the rest. She responded with saying unlike most creams and rubs, her product is water soluble. I followed up with asking why that matters and surprisingly I learned that most topicals don't fully absorb into the skin. She told me normally 6-10% of oils are absorbed but if the product is water soluble the body can more readily absorb the product with absorption rates up to 80-90%.
Ohio Right's Group, Victoria Khan
A cannabis advocacy group that has helped patients in Ohio, Ohio Right's Group is a volunteer-based group founded in 2012. Victoria, a member on the board of directors, was an essential voice in the passage of HB 523 (Ohio's Medical Marijuana Program). She testified three times and helped grow the group. The group's primary purposes are advocating for smart legislation, educating the population on the various outlets hemp and cannabis serve, and running an ambassador program where businesses and individuals can volunteer to advocate (they're not accepting ambassadors yet but you can still sign up here).
Victoria was very passionate and proud of her involvement in the industry. As one of the grassroot organizations in Ohio, she has seen Ohio transition from a criminalized state to a medical state. She briefly walked me through her history and involvement in the organization before I had to move on. As long as Ohio continues to struggle with its medical program, you can expect the Ohio Right's Group, especially Victoria, to advocate and testify if necessary in the best interest of the hemp and cannabis industry.
Sano Ti Amo, Paul Amoroso
Sano Ti Amo was cofounded by Paul Amoroso and Karen DeLuca in the beginning of January 2018 and have already made a name for themselves with their signature product Relief and Repair Pain Relief Cream. Initially, Paul developed the cream and formula for it while treating thousands of patients with chronic pain and Fibromyalgia over a span of twenty-two years. The cream is produced in an FDA approved facility and is all organic. Paul also mentioned that most creams provide pain relief but what makes his different is that it also helps repair skin tissue and any damaged skin underneath so you don't have to apply multiple applications to get the same results.
Sano Ti Amo also offered the most consumer friendly options with their CBD infused cream in prices as low as $10 and up to $90. The typical prices I saw were hovering between $40 and $70 for products which is how I noticed Sano Ti Amo was setting itself apart from its competitors. I was able to speak with Paul in between visitors at his booth and I asked him what kind of products he sold. Aside from the signature cream, a unique product only Sano Ti Amo makes is equine formula in addition to canine formula.