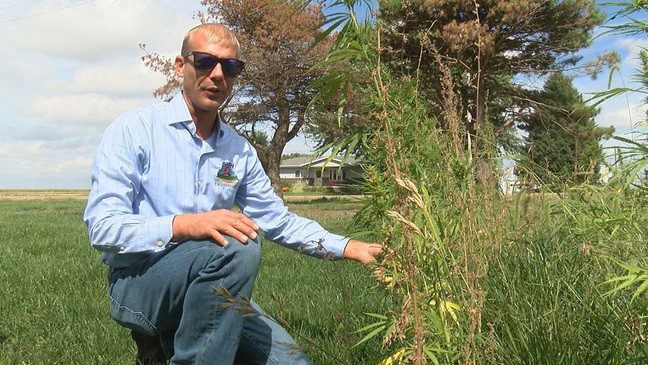 GILTNER, NEB. — Hemp could be a game changer in rural America, but those trying to expand this budding industry say banking, insurance, and advertising remain off-limits, and that's holding them back.
"There's no THC in this stuff. Not gonna get you high."
Most of us wouldn't even think about the freebies from a trade show getting us high. As Andrew Bish digs through a tub full of free stuff, it's all labeled with the same three letters – CBD.
The chemical found in cannabis plants, is now in everything from lip balm to chocolate.
"I see widespread acceptance among consumers," Bish said.
But banks are another story; They want assurances from congress about handling the finances for hemp related industries, and Bish says he's experienced that.
"There's a lot of loopholes we've had to jump through in order to help growers. (Just because you have hemp in your business name, some don't want to deal with finances?) Yeah, we've had some banks refuse to accept money from us, and banks refuse to send money to us," he said.
He thinks it's because of the connection to marijuana.
"It's cannabis and cannabis is bad because it gets you high," he said, explaining the mindset many have. "And it is all cannabis. But it doesn't all get you high."
The high that Bish is hoping for is economic.
"What I'm most excited about is the opportunity to jumpstart a grain and fiber crop, which could spur the industry on to wider adoption of those products," he said.
Congress legalized hemp in the 2018 Farm Bill, and now the USDA is writing the rules and regulations. Under Secretary Greg Ibach said that's within his mission area. NTV spoke to Ibach about hemp last month.
"It's kind of like starting brand new industry with people not having a lot of history but we've seen a lot of growth and excitement. Last year we saw 120,000 acres of hemp planted. We're estimating now 480,000 acres got planted this year," Ibach said.
Bish makes harvest equipment, which can be used for hemp.
He says it makes sense as another cash crop in the rotation for farmers.
"They need access to another option and Nebraska farmers are smart. If this doesn't work out in their crop plan, they're not going to plant it. But I think it will for a lot of farmers and if it works for a few growers, then we have a few growers that stay in business a little longer," he said.
But farmers could be taking on risk.
Nebraska only authorized ten growers this year. Anyone else may be violating the law.
Plus crop insurance has been hard to come by. Still, Bish sees it as a chance to bring profitability, taking some acres from corn and beans.
"That's going to help all of those markets improve in terms of pricing, because there's going to be less supply on the market," he said.
Hemp may be legal, but Bish says barriers remain to truly open opportunities for farmers.
"If they're given an opportunity we could be a great state with this product," he said.
While he waits for full acceptance, a meager garden plot of an heirloom variety could be the first hemp intentionally planted in Nebraska in decades.