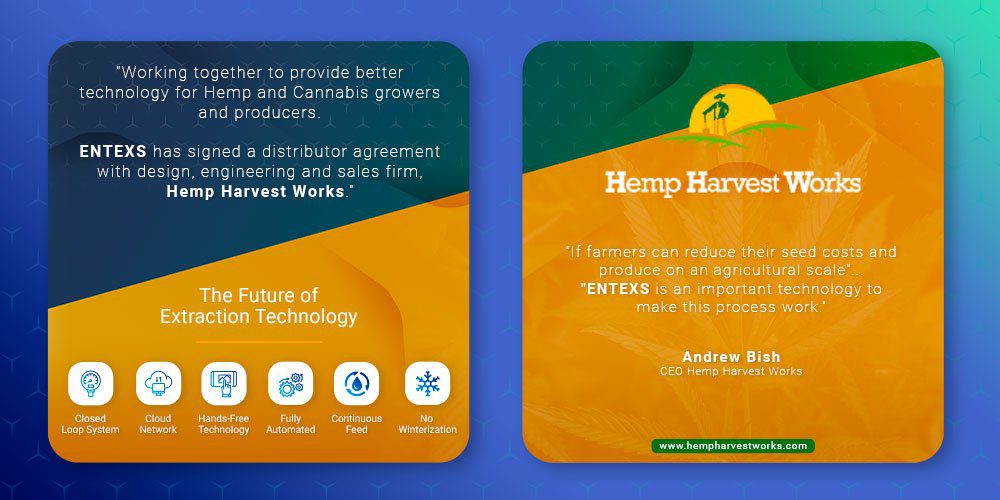 SACRAMENTO, Calif., October 13, 2020 (Newswire.com) – ENTEXS, a Sacramento-based manufacturer of hemp and cannabis extraction equipment, has signed a distributor agreement with design, engineering and sales firm, Hemp Harvest Works. The agreement extends ENTEXS' reach into the hemp grower market by promoting its closed-loop extraction technology to Hemp Harvest Works' grower database. 
Hemp Harvest Works is focused on delivering the latest resources in design, machinery and expertise to growers and producers in an effort to improve their yields. The ENTEXS collaboration is the first and only hemp extraction technology offered by Hemp Harvest Works. This technology was chosen due to its efficiency at extracting CBD from low-CBD content hemp.
"Based on our calculations at current market pricing and production methods, farmers are not able to profit on crops with less than 5-8% CBD content," says Andrew Bish, founder of Hemp Harvest Works. "If farmers can reduce their seed costs and produce on an agricultural scale, 5% CBD content can make an attractive business model. ENTEXS is an important technology to make this process work."
ENTEXS was introduced with the intent to create a more efficient extraction process through its fully automated, continuous feed and closed-loop system. The solvent recovery, temperature controls and hands-free operation are key features to its efficiency.
"Hemp Harvest Works is the place farmers visit to learn about the best machinery, technology and vendors, and we are honored to be included on this list," comments ENTEXS CEO, Ali Rashid. "Our distributor agreement gives us even greater reach into an important market."
The ENTEXS extraction technology is available now.