Sorghum Focus: USDA projects a robust harvest of 393 million bushels of sorghum.
September 19, 2023
3 Min Read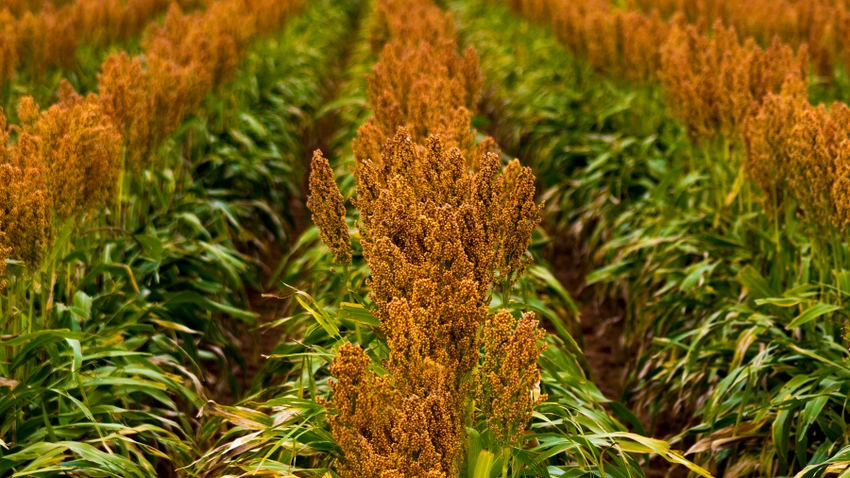 SOLID HARVEST: USDA projects an impressive harvest of 393 million bushels of sorghum, and the industry demand will have a home for it, according to John Duff.JOSHUA DOWNS/GETTY
The winds of fortune are blowing much stronger for sorghum farmers, as the historic drought of last season gave way to an abundant and promising year in 2023. No one will forget the 2022 harvest, which was the worst since the 1940s, and the dismal national yield that followed — the worst since hybrids were fully adopted in the early 1960s. However, 2023 paints a different and much brighter picture.
At present, the USDA projects an impressive harvest of 393 million bushels of sorghum, eclipsing 2022's 188 million bushels by a two-to-one margin. While recurring heat and drought have taken the prospect of a record sorghum crop off the table, 2023 will undoubtedly be an order of magnitude better for sorghum farmers.
One of the brightest spots in this resurgent year is China's renewed involvement. That country has already committed to purchasing almost 47 million bushels of the new crop sorghum set to be harvested this fall. Its demand is a refreshing sign and marks a return to a semblance of normality, which has been elusive for almost half a decade now. The sorghum industry had only just begun recovering from the 2018 trade war when the COVID-19 pandemic hit, and we had only just begun to crawl out of quarantine when drought strangled supply. Think about that. It's been five years since things were normal.
New market leads
So as the world begins its pivot towards healing, so too does the demand for sorghum — but not just from China. The Sorghum Checkoff marketing team has been aggressively working leads from Europe to Asia. Japan has also committed to purchasing new-crop sorghum, and while the amount isn't noteworthy, the fact that two international customers have already committed to buying bushels of crop that hasn't been harvested yet is noteworthy. The burgeoning interest is heartening — providing not only economic relief, but also a diversified portfolio of demand.
And lest anyone think all the U.S. sorghum industry's proverbial eggs are in one basket, a quick look at the fuel industry press reveals ethanol — the foundation of domestic demand for sorghum — remains robust. U.S. ethanol plants, especially those here in the sorghum belt, are in a period of economic vitality. The trials of the pandemic forced these plants to diversify their revenue streams, and today, with the cascade of news spotlighting opportunities for low-carbon ethanol, the sentiment in the ethanol sector is more bullish than ever.
A large amount of sorghum ethanol finds its way into a low-carbon-fuel market, where sorghum often boasts a competitive edge. This advantage has fueled interest in sorghum from ethanol plants, a development that's especially critical in an era where every bit of new demand matters.
A lot to be thankful for
As we stand on the edge of another harvest, there's a lot to be thankful for. The landscape is one of abundant harvests — or at least a more abundant harvest than last year — and eager buyers, both domestic and international. After the trials of the last few years, 2023 is set to be a beacon. The future of U.S. agriculture is bright, and the future of sorghum is even brighter.
Duff is founder of Serō Ag Strategies and serves as a consultant to National Sorghum Producers. He can be reached by email at john@sorghumgrowers.com or on Twitter @sorghumduff.