The ENTEXS MINI is the smallest ethanol solvent-based extraction system we offer. Equipped with modules that can be configured to the user's needs. A fully automated extraction system that can process 900 or 1800 lbs of biomass per day.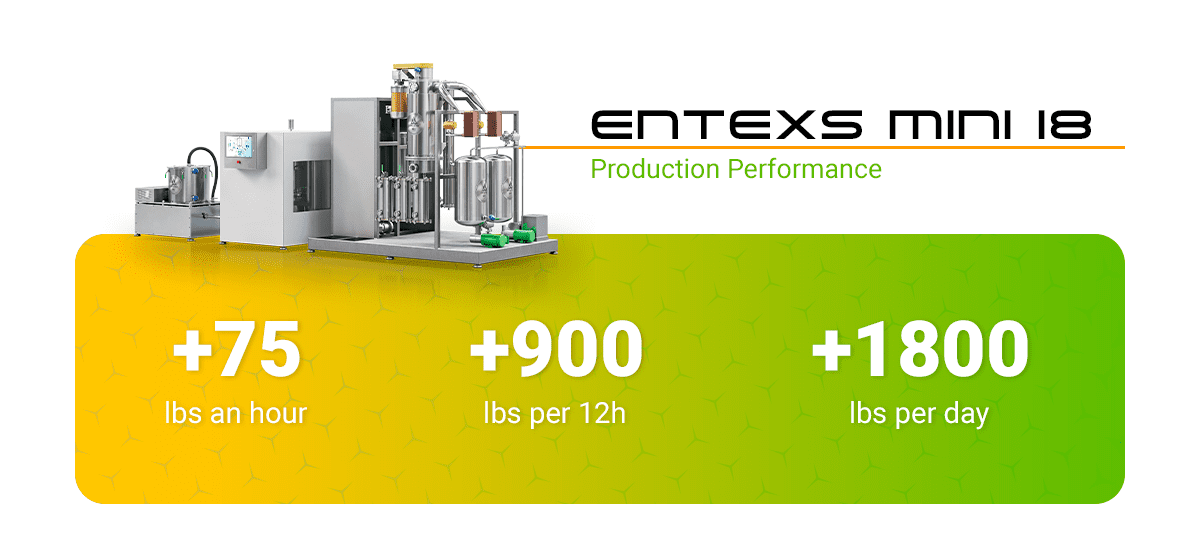 Hands-free Technology
No touch process throughout the extraction process eliminates potential reduced efficiencies, compromised quality, increased labor and safety risks.
No Winterization
Bypass this extensive and time-consuming step by controlling and maintaining solvent temperature during the extraction process below -50 °C.
Cloud Network
From your phone or computer, real-time and trend monitoring of extraction process can be leveraged to optimize efficiency.
Closed Loop System
Solvent temperature control maintains precise extraction temperature. Combined with our automation, complete control over final product states can be configured and run.
BATCH RATE
BATCH SIZE: 25 LBS
THROUGHPUT CAPACITY: 1.800 LBS PER DAY
COOLING METHOD: CASCADE CHILLER
TEMPERATURE RANGE: CONFIGURABLE DOWN TO -100 ° C
ELECTRICAL SPECIFICATIONS
VOLTAGE: 208 / 240 / 480 ( CONFIGURABLE )
POWER: 65 KW TOTAL POWER REQUIREMENT
ELECTRICAL RATINGS: CLASS 1 DIV 2 – MINIMUM ELECTRICAL RATING
SYSTEM MODULES
BATCH CENTRIFUGE
SOLVENT STORAGE TANK
RECIRCULATING PUMP
CONTROL VALVES
HEAT EXCHANGERS
COMPREHESIVE FILTRATION
HTF HEATING LOOP
WIPED FILM EVAP / SHORT
PATH DISTILLATION
HIGH VAC (MTORR) SYSTEM W/ TURBO BOOSTER
GLYCOL CHILLER

MECHANICAL SPECIFICATIONS
FOOTPRINT: 12"W X 6" D X 8"H (TOTAL SYSTEM FOOTPRINT)
TEMPERATURE RATING: -100° TO +200° C
PRESSURE RATING: FULL VACUUM TO 100 PSIG
SOLVENT HOLDING VOLUME: 60 GALLONS
HMI INTERFACE SCREEN SIZE: 24 IN
CONTROLLER: FPGA BASED INDUSTRIAL CONTROLLER WITH WATCHDOG FOR CONTROL AND PROCESS MONITORING