The ENTEXS MIDI is a complete, turn-key, closed loop, cold ethanol extraction system capable of continuously processing biomass to true full-spectrum crude and/or distillate. The continuous feed carousel system, cascade chillers, and multi-stage wiped film evaporation go from bulk biomass to high quality crude without any operator intervention. This patent-pending system provides unmatched, truly automated hands-free technology.
ENTEXS midi is intended for clients with more than 4500 pounds of biomass per day.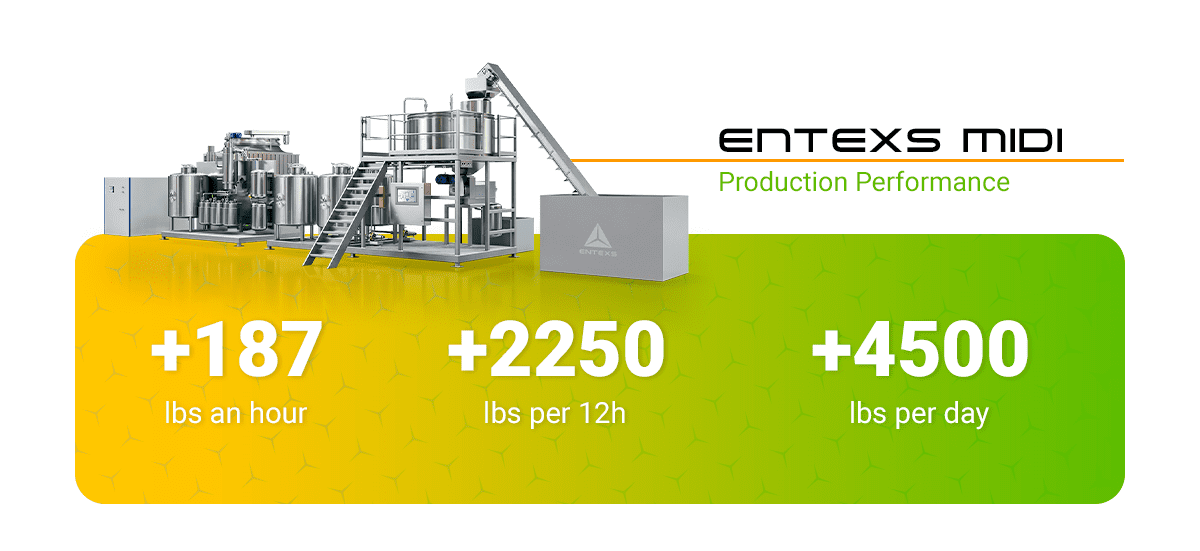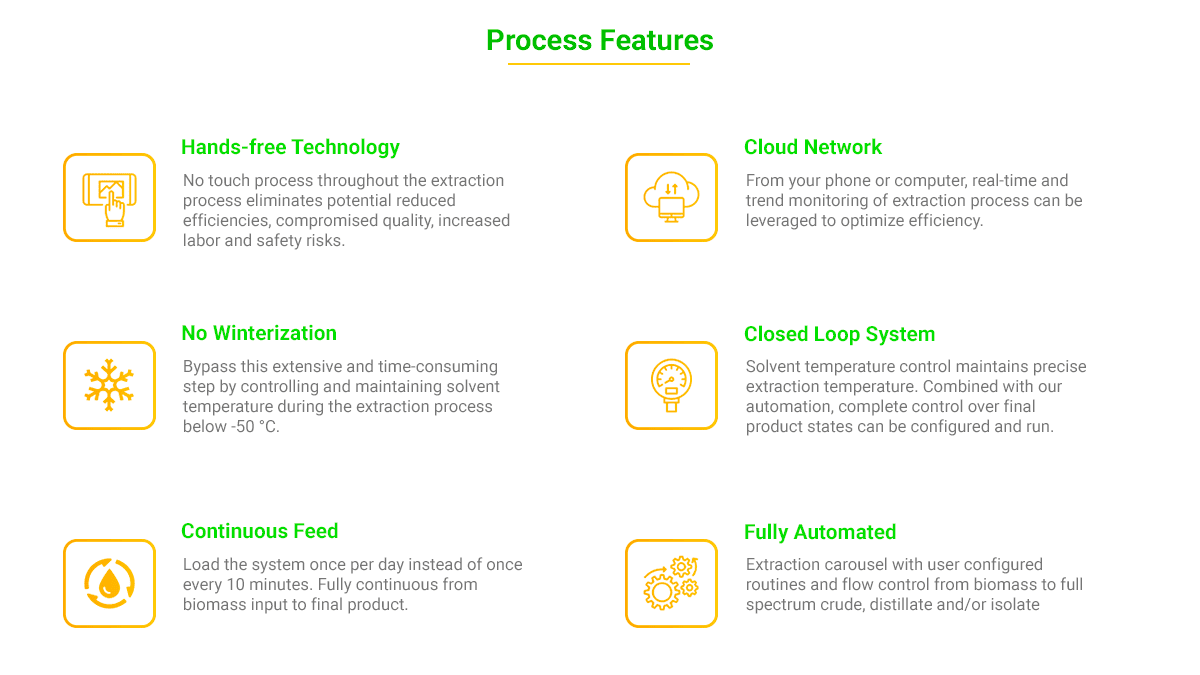 Hands-free Technology
No touch process throughout the extraction process eliminates potential reduced efficiencies, compromised quality, increased labor and safety risks.
No Winterization
Bypass this extensive and time-consuming step by controlling and maintaining solvent temperature during the extraction process below -50 °C.
Continuous Feed
Load the system once per day instead of once every 10 minutes. Fully continuous from biomass input to final product.
Cloud Network
From your phone or computer, real-time and trend monitoring of extraction process can be leveraged to optimize efficiency.
Closed Loop System
Solvent temperature control maintains precise extraction temperature. Combined with our automation, complete control over final product states can be configured and run.
Fully Automated
Extraction carousel with user configured routines and flow control from biomass to full spectrum crude, distillate and/or isolate
BATCH RATE
THROUGHPUT CAPACITY: 4500 LBS PER DAY
RUNS CONTINUOUSLY TO ACHIEVE: UP TO 188 LB/HR
COOLING METHOD: CASCADE CHILLER
TEMPERATURE RANGE: -80° FOR EXTRACTION TO +200° C
FOR DISTILLATE PRODUCTION
MECHANICAL SPECIFICATIONS
FOOTPRINT: 40'W X 8'D X 11'H (TOTAL SYSTEM FOOTPRINT)
TEMPERATURE RATING: -80° TO +200° C
PRESSURE RATING: FULL VACUUM TO 100 PSIG
SOLVENT HOLDING VOLUME: 300 GALLONS
HMI INTERFACE SCREEN SIZE: 24 IN
CONTROLLER: FPGA BASED INDUSTRIAL CONTROLLER WITH
WATCHDOG FOR CONTROL AND PROCESS MONITORING
ELECTRICAL SPECIFICATIONS
VOLTAGE: 480 V - SUPPLY VOLTAGE
AMP REQUIREMENT: 275 A - TOTAL SYSTEM AMP DRAW
POWER: 230 KW TOTAL
ELECTRICAL RATINGS: CLASS 1 DIV 2 - MINIMUM ELECTRICAL RATING