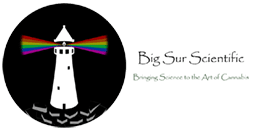 The BSS 2000 Cannabis Analyzer
The Big Sur Scientific BSS 2000 Cannabis Analyzer- Easily measure potency on bud, oils, extracts, shatter, sugar, wax, and resin yourself in under 2 minutes.
Features
Easy – Push button operation, anyone can do potency testing!
Fast – Results in under 2 minutes.
Accurate – Potency accuracies better than ±2 weight %.
No Sample Preparation – no dissolving or grinding of the sample needed, analyze as is.
Save Time and Money – No need to send samples to outside labs for slow and expensive analysis-do it yourself and get immediate results!
Pre-calibrated – Works right out of the box.
Representative Results – easily analyze multiple samples from a batch or grow, getting a true picture of your product and process.
No Sample Sacrifice – only a few milligrams of sample are needed for an analysis, no need for sacrificing grams of valuable sample.
Small and Lightweight – Measure potencies where and when you want.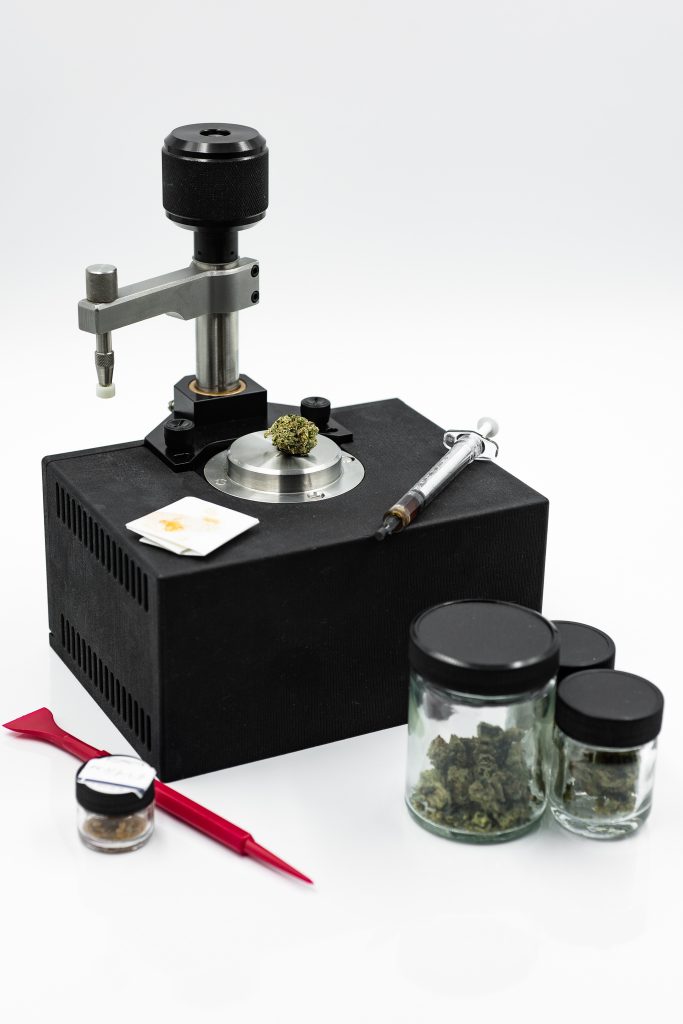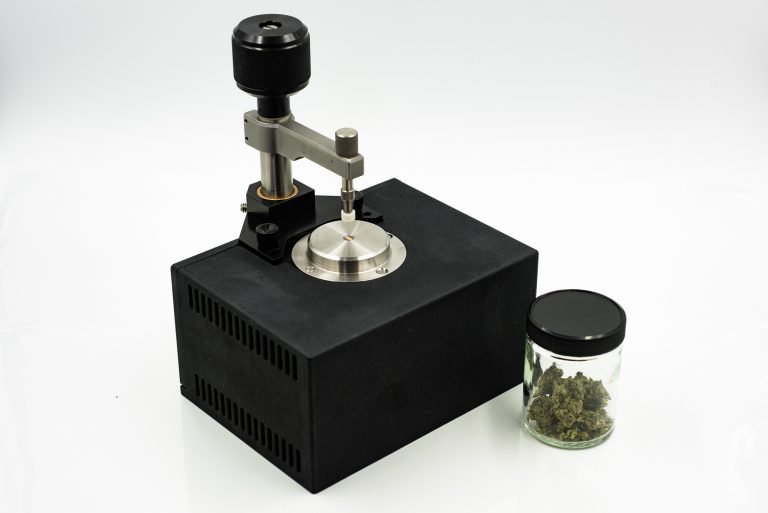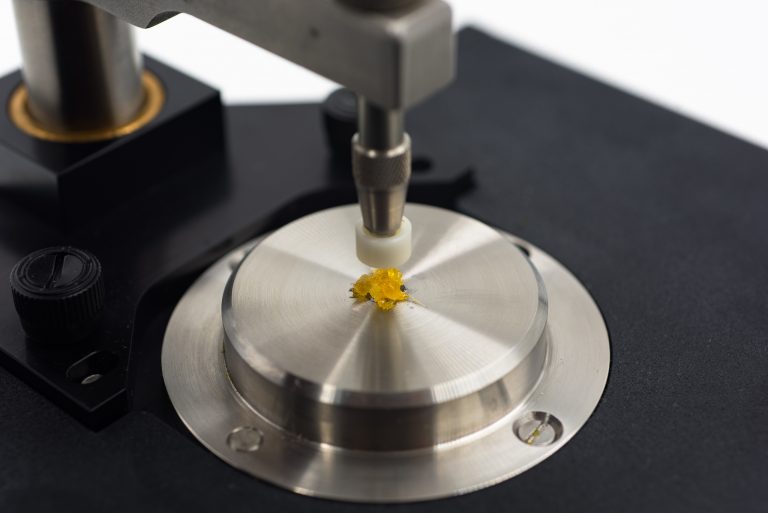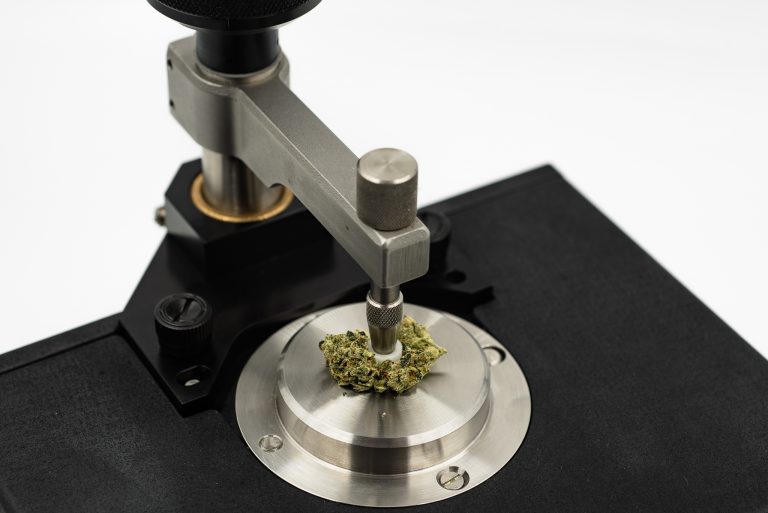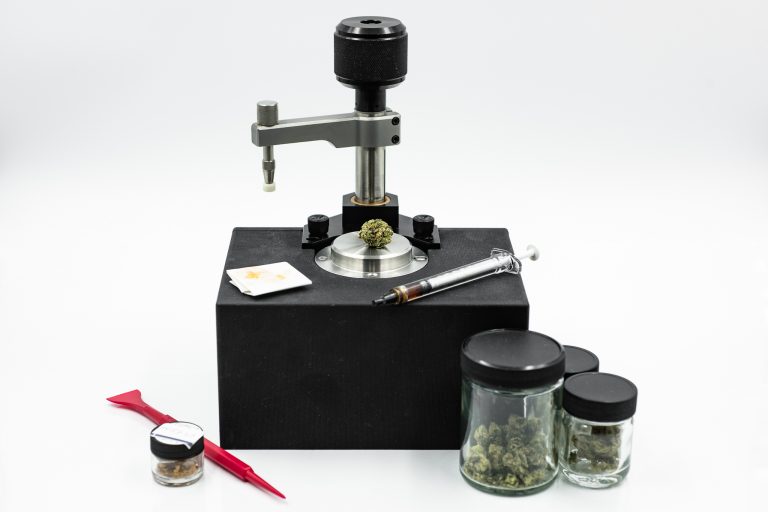 BSS 3000 Portable Hemp Analyzer
Features
High accuracy enables compliance testing of ground, dried hemp
Push button operation enables anyone to test hemp
Determines Total THC, CBDA, and 5 other cannabinoids in 2 minutes
Little sample preparation
Battery pack means 8 hours of portable power
Test your crop for compliance BEFORE it becomes non-compliant
Optimize your grow by experimenting and testing yourself
Works on CBD extracts, oils, distillates, and CBD in MCT oil too!
How it Works
The BSS 2000 uses mid-infrared light to analyze samples. Mid-infrared light means better selectivity and sensitivity than other cannabis analyzers. The BSS 2000 can determine both THCA and THC in buds, oils, and cannabis solids (shatter, resin, wax, and sugar) with an accuracy better than ±2 weight %.
A sophisticated mathematical algorithm called Partial Least Squares allows the BSS 2000 to determine potency in samples as is, so there is no messy, expensive, and time consuming grinding or sample extraction. Only a few milligrams of sample are required, so you don't sacrifice grams of valuable sample as with other analyzers. Our Cannabis Analyzer software features push button operation, so anyone can analyze samples. Systems arrive at your door pre-calibrated, so there is no need to hire an expensive Ph.D. scientist to calibrate the system for you. The BSS 2000 allows you to do your own potency testing in minutes when and where you want!
Please Note: The software packages are the only difference between the BSS 3000 and BSS 2000. The hardware design remains the same between the two models.
History
Big Sur Scientific is a team of scientific and engineering professionals dedicated to the following ideals.
Cannabis is medicine, it should be analyzed like medicine.
To ensure long term national acceptance of legalized cannabis use, the industry needs to be put on a sound scientific footing.
That means cradle-to-end user testing is required of cannabis products, in the same vein as pharmaceuticals.
We will provide the industry with the products it needs to pursue these goals.