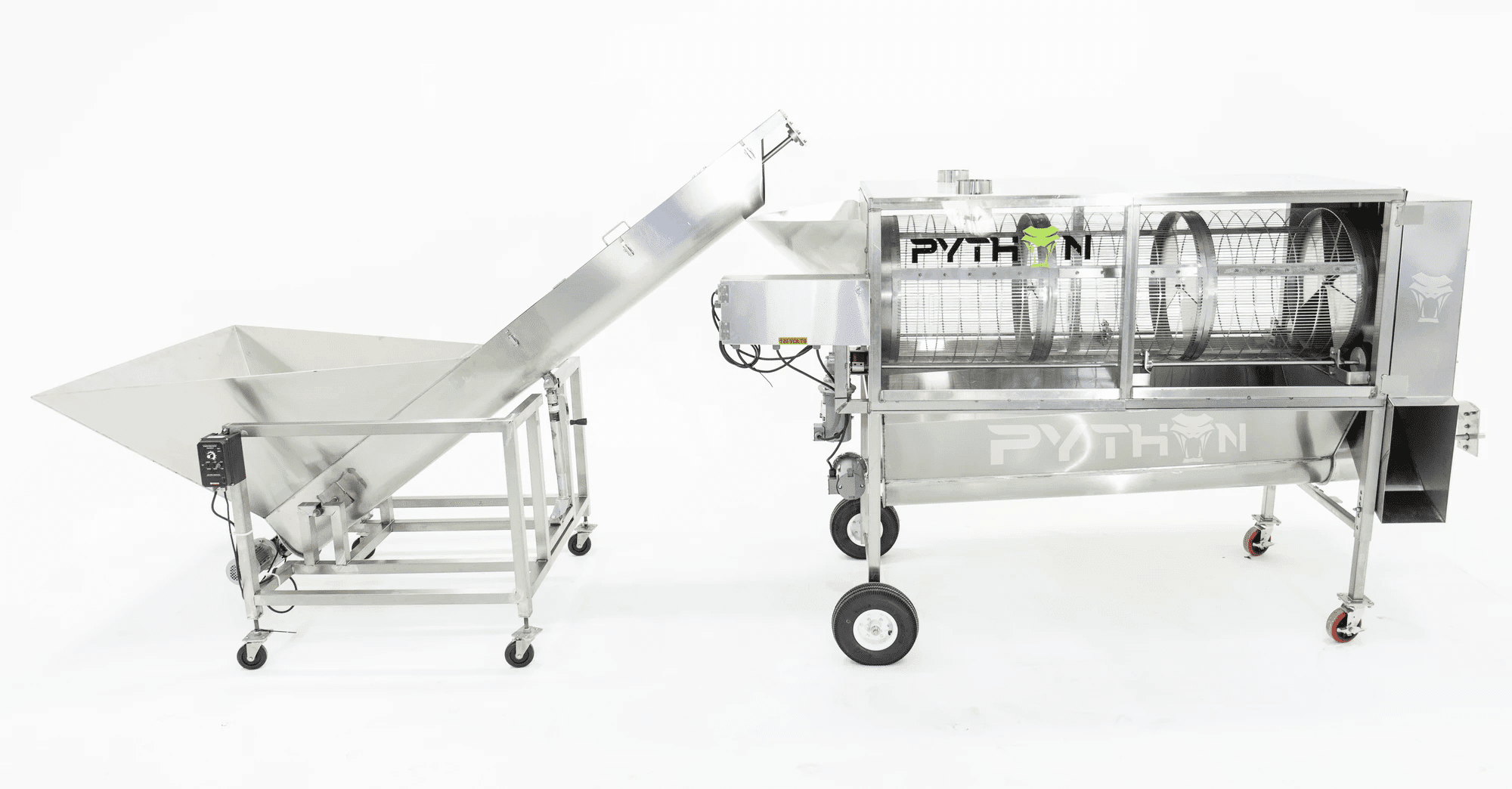 Python 600 Industrial Hemp and Cannabis Trimmer – Trims up to 600 lb per hour.
TOM'S TUMBLER™ PYTHON 600 INDUSTRIAL HEMP AND CANNABIS TRIMMER  
The PYTHON 600 is an industrial dry trimmer for cannabis, hemp or other agricultural products.  It is the largest capacity trimmer available, processing600 pounds or more of dry flower per hour, gently yet efficiently.
BLADELESS TECHNOLOGY
The Python used Tom's proven bladeless tumbling technology to preserve trichomes and crystals while producing a beautifully trimmed product.  Tom's Tumblers have a proven record as the best alternative to bladed trimmers.  The Tumblers use the friction between buds as they tumble to gently break the sugar leaves off buds. Buds look hand-trimmed with full bud structure and preserved trichomes and crystals.
BUILT TO LAST
The Python 600 is all stainless steel frame with a stainless steel tumbling chamber and bud chute.  The Python weighs 1000 lbs.   The simple design means that little can go wrong with the Python.  It includes three industrial motors that drive the auger feeder, the tumbler trommel and the auger that carries the trim to a catch bin.  The Python is built to last for years.  It is covered by a full three-year warranty with 24-7 support available from Tom's Tumbler.
HOW IT WORKS
The Python is fed by a stainless steel hopper with a food-grade plastic auger that draws flowers up and into the gravity feed of the Python tumbling chamber.  The chamber tumbles at 35 RPM and moves product through three chambers of mesh netting in less than five minutes to exit as trimmed flower at the end of the Python. It is the perfect amount of tumbling to prepare cannabis or hemp for market.
MANY ADJUSTMENTS
The trimming speed is easily adjusted by the manual speed control motor, baffles between chambers and the angle of the Python. Clean trim is dropped through the mesh to the auger below which moves the trim to tne catch bin under the bud chute.
AFTER DRYING, TUMBLING
The Python uses a simple, clean design, built on the bladeless, tumbling technology Tom's Tumbler introduced in 2014.  The Python is the one machine needed to trim thousands of pounds of flower once the drying and bucking process is complete. It replaces hundreds of hand trimmers and dozens of smaller trimmers in one day with its exceptional productivity.
With no down-time to change or clean blades, like other machines, the Python can be run all day, all season, year after year.
The Python 600 is:
Built to last for years
Easy to set up and operate
Quiet and low maintenance
Gentle on your flower, tumbling less than 5 minutes
Efficient, processing 600+ pounds per hour
Proven, bladeless technology
PYTHON FEATURES:
Large hopper for easy feeding from storage bins or super sacks
Manual speed-control auger feeds the Python
Gravity feeder guides the buds from hopper into the Python tumbler
Manual speed-control allows full control of the Python tumbling
Interchangable stainless steel and food-grade plastic mesh netting with a variety of sizes.
Clean trim falls through nets into channel with auger that moves trim into a catch bin
Trimmed buds drop into a bin or conveyor for sorting at end of the Python
PYTHON OPTIONS:
The Python comes in 3 sizes based on capacities per hour:

400 - 400 lb. per hour
600 -600 lb. per hour
1200 - 1200 lb. per hour

High power 2 Cyclone dust collector/kief collector
conveyor for bud sorting and packaging
LOW MAINTENANCE:
Maintenance is as simple as brushing your Python down with sterile brushes (included) to collect any fallen kief, or vacuum with clean vacuum.  Clean the catch funnel and channel with Tom's Resin Remover, and hose down with water.  The nets are removable and washable with water.
NOTE: The Pythons do not currently come with the CO2 infusion.  A cost-effective means of flash freezing buds in the Python is currently under development.