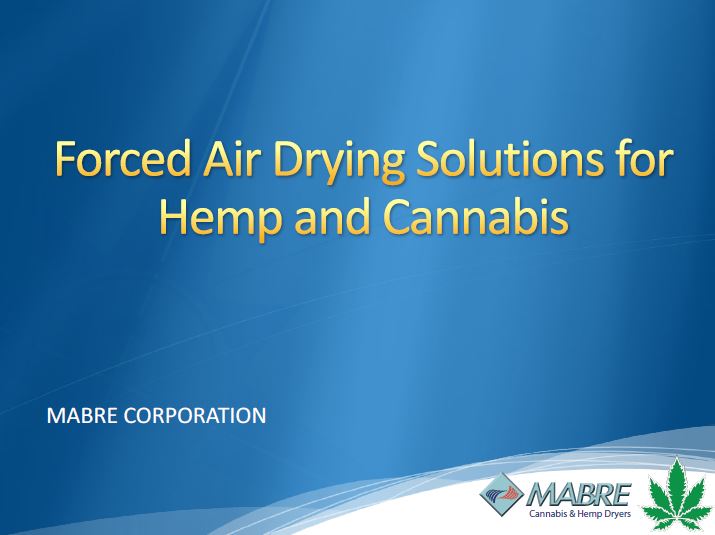 Drying Kilns for Cannabis and Hemp
With having combined decades of experienced years drying and curing tobacco, ginseng, and herbs, compressed baled hay, wood – wood products and grain drying solutions,
Mabre kilns have been re-designed specifically to dry "world- class" cannabis and hemp flower.
Handling and drying large amounts of product can be an over- bearing task if the proper drying facility is not in place. Mabre kilns will save labour and drying cost with reduced energy consumption.
Mabre kilns have full galvanized aeration flooring with Mabre's "dynamic pressure flow adjustment" which is priority importance for a consistently dried and cured crop.
Mabre offers "mobile" kilns that are HVAC equipped on a flat deck with generator, as well as the standard stationary unit.
We will totally customize a kiln to suit your harvest and handling practices.
Hemp Dryers – Drying for oil extraction
Mabre hemp dryers are engineered with optimum air -flow designed floors to ensure even air flow and static pressure is maintained in the dryer. Optimum air flow, heat, exhaust and controller are the most important environmental keys that need to happen to manage the drying process.
When built in our manufacturing plant, the dryer will come to the delivery site- "Turn Key, ready to go." Just connect power and gas and that's it!
Mabre offers handling options for bucked flower with rolling trays and hemp bins.
Introduction to Commercial Drying Kilns
Whether if it is cannabis or hemp – it has to be dry or cured in order to sell for oil extraction or quality smoke grade. Mabre offers a complete line of drying kilns and containerized units that are built in our controlled production facility.
Decades of experience in drying and curing commodities like tobacco, ginseng, and herbs, have made Mabre drying kilns tailored to offer quality products to the hemp and cannabis industries. Years of continuous improvement in our production processes offer improved efficiencies over any "custom field-built dryers" and bring consistent quality, and deliverable production timelines. Mabre kilns are amazingly energy efficient, saving labour and increased work flow efficiency during harvest season. Always, giving piece of mind, that your product gets to market to world class standards with the best quality and consistency possible.
Curing Dryer – Cannabis and Hemp smoke grade quality
Mabre also offers a drying and curing unit for cannabis and hemp smoke grade quality. These units are precisely controlled with cooling, heating, dehumidification, variable speed VFD blowers. Also equipped with state of the art controller with live monitoring and controlling from your hand held device. You set the parimeters on the controller of the environment that you want and the dryer does the rest to give you a consistent end product.
These can be used as a storing and curing unit for holding your end product till it is ready to go to market.
We can customize to your harvest practices with bud handling solutions with hanging racks, drying carts or rolling trays, which offer flexibility to meet your drying needs.
Mobile Solutions
Mabre is pleased to offer portable drying kilns! Whether you want to start a custom drying business or maybe you have multiple farm locations. We can customize a mobile, flatbed mounted containerized solution that is totally turn-key.